No. 2 Knights Too Much Against Belles
NOTRE DAME, Ind. - Second-ranked Calvin held a 46-16 lead at the half and won by that same 30-point margin, handing the Saint Mary's basketball team an 84-54 loss on Wednesday night.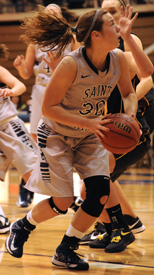 Krista Knapke makes a move
to the basket for a shot on
Wednesday night.The visiting Knights established a 10-point lead through the first 4:48 of play. Calvin used a 17-1 run to expand that lead to 26 points as the Knights' size advantage led to six made baskets in the paint during that run. Saint Mary's responded with made baskets on three consecutive possessions with Krista Knapke and Shanlynn Bias putting points on the board. Calvin, however, scored 12 of the final 13 points of the half to take the 46-16 halftime lead.

While the Belles were unable to get within fewer than 29 points of Calvin's lead, the second half was played so closely that both teams scored 38 points in the final 20 minutes of action. Saint Mary's posted better shooting percentages from the floor (43.3 percent) and from the free throw line (78.6 percent) in the second half than their counterparts (37.9 percent and 77.8 percent, respectively).

The Belles had their largest run of the game with an eight-point spurt in a two-minute span late in the second half with Kayla Wolter and Bias each notching four points.

Shanlynn Bias led the Belles with 13 points, eight rebounds, and six steals. Kayla Wolter added nine points and three assists while Krista Knapke also pitched in nine points for Saint Mary's.

Saint Mary's (5-18, 3-11 MIAA) travel to Alma this upcoming Saturday, February 9, for a 3:00 p.m. game against the Scots.