Belles Bounced by Maroons
Box Score

CHICAGO, Ill. - The Saint Mary's basketball team was defeated 79-59 by the University of Chicago on Tuesday evening.

After a pair of early ties, the host Maroons staked claim to an 18-8 lead through the first seven minutes of play. The University of Chicago pushed their lead to an 18-point advantage with 5:04 to go before the half. The Belles used a 9-0 run in two-and-a-half minutes to cut that lead in half with a three-pointer by Maddie Kohler, a pair of free throws by Eleni Shea, a jumper by Ariana Paul, and a made two-point bucket by Kohler. The Belles would head to the break trailing by 10 at 38-28.

Saint Mary's continued to battle their way back into the game as the Belles edged within five points at 52-47 on two more free throws by Shea to cap off a 13-4 run. The Maroons responded with a 13-0 run over a four-minute span to take a 65-47 lead with 6:26 to go in the contest and held at least a 17-point cushion over Saint Mary's for the final six-plus minutes of the game.

The Belles were 24-of-31 from the free throw line while the Maroons were just 9-of-13. The University of Chicago hit 45.7 percent (32-of-70) of their shots from the floor while Saint Mary's was just 27.0 percent (17-of-63) from the floor.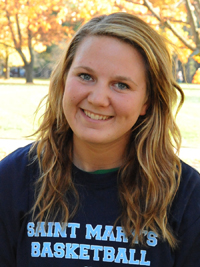 Eleni Shea had her first collegiate
double-double against the University
of Chicago on Tuesday.Four players scored double figure points for the Belles. Saint Mary's was led by Krista Knapke's 13 points, which included a 7-of-8 effort from the free throw line. Ariana Paul narrowly missed out on a double-double with 12 points and nine rebounds to go along with three steals. Eleni Shea notched her first collegiate double-double with 11 points and 10 rebounds for the Belles. Shanlynn Bias added 10 points on the night.

The Belles (3-8) will look to bounce back against Millikin on Thursday, December 20 as Saint Mary's takes on the Big Blue at 2:00 p.m. CST at the Griswold Center.