Belles Anchored Down by No. 3 Flying Dutch
NOTRE DAME, Ind. - The Saint Mary's basketball team was defeated by No. 3 ranked Hope on Senior Night by a 103-49 margin in the Belles' season finale on Wednesday.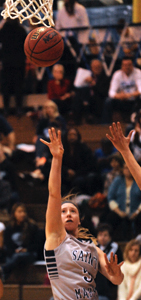 Kayla Wolter hits a shot
in the second half on
Wednesday.The Belles traded points with the Flying Dutch early with Bernadette Jordan and Kayla Wolter tallying the first six points for Saint Mary's to set the score at 8-6 3:15 into the game. Hope scored 12 straight points to jump start a 22-4 run over the next seven minutes of play to distance themselves midway through the first half.
The third-ranked Flying Dutch led by at least 17 over the remainder of the game.
Hope made 61.2 percent of their shots from the floor, including 15-of-25 three pointers (60.0 percent). The Belles hit 34.0 percent (16-of-47) of their shots from the floor and 88.9 percent (16-of-18) of their free throws.
Shanlynn Bias led Saint Mary's with 18 points. Kayla Wolter added 11 points and four assists for the Belles.
Saint Mary's ends the season 5-20 overall and 3-13 in MIAA play.