Balanced Belles Snap Skid with Win Over Hornets
Box Score

KALAMAZOO, Mich. - The Saint Mary's basketball team snapped a four-game skid and picked up their first MIAA win of the season with a 66-57 decision over Kalamazoo on Wednesday evening at the Anderson Athletic Center.

Down 4-2 over the first two minutes of play, the Belles went on a 14-2 run over the next five minutes for a 16-6 advantage with 12:34 to go in the opening period. The Hornets chipped away at the deficit and regained an 18-17 lead with over six minutes to go. Kalamazoo pushed that lead to five with 4:31 remaining before halftime, but an 11-0 run to close out the first half by Saint Mary's gave the Belles the 29-23 advantage at the half.

Saint Mary's doubled their lead to 12 points in the first three minutes of the second half by scoring on four of their first five possessions. The Belles extended their advantage to 17 points on back-to-back buckets by Krista Knapke and Eleni Shea with 12:27 on the clock.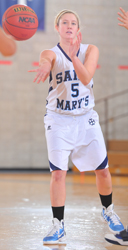 Kayla Wolter had a
career-high nine points
and was 7-of-8 from the
free throw line over the
final 2:32 of the game.Looking to make a late surge and overtake the Belles, Kalamazoo out-scored Saint Mary's by a 10-2 margin over a four-minute span to get within 55-48 with 3:19 to go. Down the stretch, however, Kayla Wolter hit 7-of-8 free throw attempts while Ariana Paul and Shanlynn Bias each drained a basket to lift the Belles to the 66-57 victory.

For the game, Saint Mary's committed only 13 turnovers to Kalamazoo's 21 giveaways. The Belles also out-scored the Hornets 38-22 in the paint and 23-9 on second-chance efforts.

Krista Knapke had her first collegiate double-double with 13 points and a game-best 11 rebounds. Eleni Shea added a season-high 13 points, and Ariana Paul had her second consecutive double-double with 10 points and 10 rebounds. Kayla Wolter narrowly missed out on double-digit scoring as the senior chipped in a career-high nine points in just 10 minutes of play.

The Belles (3-5, 1-2 MIAA) return home on Saturday, December 8, to host conference foe Alma for a 3:00 p.m. contest.