Belles Edged Out by Hornets
Box Score

NOTRE DAME, Ind. - Visiting Kalamazoo scored on six of their final seven possessions while the Belles came up empty on their final five possessions as the Saint Mary's basketball team fell 63-59 on Saturday afternoon.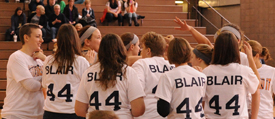 The team huddles up with Anne Blair Payne '02,
who recently won her battle against lymphoma.With the game tied 13-13 midway through the first half, Saint Mary's went on an 11-0 run for the biggest lead of the game for either team as the Belles held the 24-13 advantage less than seven minutes before halftime. Katherine Wabler, Eleni Shea, and Kayla Wolter all helped to spark the run to give Saint Mary's the momentum in the first half. The Hornets responded with a deep three-pointer, but the Belles countered right back with a three-pointer by Maddie Kohler. The teams again traded baskets with Emily Page coming up with a jump shot to keep the advantage at 11 points for Saint Mary's.

Kalamazoo foreshadowed their ability to put together a run late in a half as the Hornets outscored the Belles 7-0 over the final four minutes of the opening period to trail 30-27 at the half.

Seven minutes into the second half, Kalamazoo tied the game at 41-41. After three more tied scores and a pair of lead changes, Kohler drained another three-pointer to regain the lead for the Belles at 52-50 with 6:25 remaining. Saint Mary's pushed the lead to six points with 2:27 to go on free throws by Shea, Kohler, and Knapke as well as a good jump shot by Knapke.

Over that final 2:27 stretch, however, the Belles were unable to convert on their final five possessions of the game. Conversely, Kalamazoo tallied at least a point on six of their last seven possessions of the contest to pull ahead for the 63-59 decision.

The visiting Hornets hit 20 of 28 free throw attempts (71.4 percent), which included a 6-of-8 effort in the final 1:18 of the game. Saint Mary's connected on 12 of 23 trips to the charity stripe (52.2 percent) in the contest.

Eleni Shea had season-highs with 16 points and five steals to lead the Belles. Maddie Kohler chipped in season-bests of 11 points and five rebounds. Krista Knapke also scored 11 points for Saint Mary's.

The Belles (5-15, 3-8 MIAA) travel to in-state MIAA rival Trine on Wednesday, January 30 for a 6:00 p.m. game against the Thunder.