Belles Come Up Short Against Big Blue
DECATUR, Ill. - The host Big Blue led from start to finish as Millikin defeated the Saint Mary's basketball team 63-56 on Thursday afternoon.

Millikin took their largest lead of the game at 39-25 and again at 43-29 in the second half of play. The Belles then fought their way back into the game. Saint Mary's scored the next eight points of the game to jump start a 13-2 run with Kayla Wolter, Krista Knapke, Maddie Kohler, and Eleni Shea all contributing points to edge within 45-42.

After the Big Blue regained a seven-point lead, the Belles responded with four consecutive points to trail 49-46 with 5:30 to go. Millikin, however, scored on five of their next six possessions to take a 60-50 advantage with under two and a half minutes to play. With a good three-pointer by Kohler and a layup by Ariana Paul, Saint Mary's made it a six-point game with just over a minute left, but the clock would run out on the comeback for the Belles.

Millikin averaged nearly a point per Saint Mary's turnover as the Big Blue scored 24 points on 25 Belles turnovers. Saint Mary's out-rebounded Millikin by a 43-33 margin, but the hosts scored 17 second-chance points to the Belles' eight.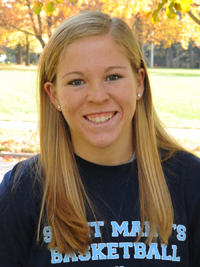 Maddie Kohler scored a season-best
eight points for the Belles.Eleni Shea and Ariana Paul each scored 12 points to pace the Belles. Shea added eight rebounds, and Paul pulled down six boards and swiped three steals. Shanlynn Bias scored 11 points to go along with four assists. Maddie Kohler chipped in a season-high eight points for Saint Mary's.

The Belles (3-9) will break for Christmas and return to action next week when they travel to the University of Dubuque for a two-day tournament December 28-29.