Belles Bitten by Polar Bears
Box Score

NOTRE DAME, Ind. - Saint Mary's fell to Ohio Northern by a 77-62 final score on Sunday afternoon.

The Belles snagged a few early leads against the visiting Polar Bears. With the game tied 13-13, Ohio Northern broke the tie with an 11-0 run over a four-minute span.

Saint Mary's got back-to-back buckets by Shanlynn Bias and Emily Page to edge within seven points at 24-17 with 9:05 left on the clock in the first half. The Polar Bears responded with the next six points to push their lead to 13 with just over five minutes to go. Ohio Northern headed to the break with a 42-27 advantage.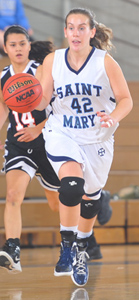 Ariana Paul scored a
career-high 16 points
on Sunday.The Belles jumped out in the second half to out-score the Polar Bears 11-5 over the first five-and-a-half minutes of play to get the deficit down to nine points. Ohio Northern scored on their next three possessions to push their lead back to double-digits and led by at least 13 for the remainder of the contest.

Ohio Northern had the upper hand in point production by their bench as Polar Bear reserves scored 27 points while the Belles had nine points in the same category.

Ariana Paul scored a career-high 16 points to lead the Belles. Krista Knapke hit her first seven shots from the floor on the afternoon on her way to 14 points. Shanlynn Bias added 13 points, and Eleni Shea tallied 10 points for Saint Mary's. Bernadette Jordan added a season-best eight assists.

The Belles (2-3) open up conference play on Wednesday, November 28 when they travel to Adrian for a 7:30 p.m. game against the Bulldogs.