Belles Downed by Comets
Box Score

OLIVET, Mich. - Olivet used a 13-1 run to pull away late in the first half as the Comets handed the Saint Mary's basketball team an 87-63 loss on Saturday afternoon.

The Belles opened up the game with a pair of buckets by Krista Knapke to snag a quick 4-0 lead. The Comets, however, hit their first of six three-pointers in the first half to cut that lead to 4-3. Two minutes later, Olivet went up by four on another three-pointer for a 10-6 advantage four minutes into the contest. Bernadette Jordan responded with a three-pointer of her own to keep the game close at 10-9. The Comets continued to dial up from long distance as three consecutive three-pointers capped off a 15-4 run by Olivet to push their lead to 25-13 with 12:32 left on the clock.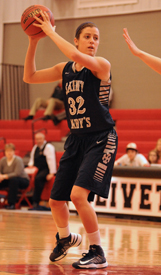 Katherine Wabler had career-
best totals for points (13)
and steals (4) at Olivet.Saint Mary's battled their way back into contention with a 10-0 run over a 3:22 span later in the first half. Katherine Wabler scored back-to-back layups, Knapke drained a pair of free throws, and Emily Page hit a layup of her own to pull the Belles within 33-25 with 6:01 to go before halftime. Olivet, however, went on a 13-1 run to take a 46-26 lead with 2:54 remaining in the opening period.

Olivet only outscored Saint Mary's by three points (38-35) over the final 20 minutes of play while leading by at least 21 throughout the second half. Both teams were 17-of-23 from the charity stripe, but Olivet hit 45.6 (31-of-68) of their shots from the floor to Saint Mary's 36.7 percent (22-of-60) effort.

Katherine Wabler had career-high marks with 13 points and four steals while leading the team with six rebounds. Krista Knapke also added 13 points for the Belles. Shanlynn Bias and Bernadette Jordan each chipped in eight points.

The Belles (5-13, 3-6 MIAA) return home to host Adrian at 7:30 p.m. on Wednesday, January 23 for an MIAA contest.