Belles Clipped by Cardinals
Box Score

NOTRE DAME, Ind. - The Saint Mary's basketball team fell by a 73-56 score against Otterbein in the opening contest of the 2012 Saint Mary's Thanksgiving Classic on Saturday.

The visiting Cardinals opened the game with the first seven points for a 7-0 lead less than three minutes into the game. The Belles then came back with six of the next eight points to slice the lead to 10-6 at the 15:18 mark. Saint Mary's kept within striking distance by trading baskets with Otterbein over then next several minutes of play.

Krista Knapke drained a pair of free throws to get the Belles within 23-16, but the Cardinals scored on their next three possessions to double their lead to 30-16 with 5:33 remaining in the first half. Saint Mary's decreased the deficit to nine points with fastbreak layup by Katherine Wabler with under four minutes left in the period. Otterbein would take an 11-point advantage to the break.

Otterbein used a 15-4 run to push their lead to 20 points over the first six minutes of the second half of play. From that run onward, the Cardinals led by at least 17 points in the 73-56 decision.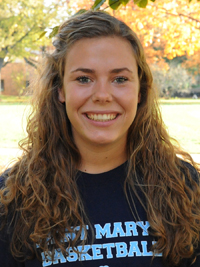 Krista Knapke had a team-high 13 points.Both teams shot the ball 59 times from the floor with Otterbein connecting on 29 attempts to the Belles' 22. Saint Mary's out-scored the Cardinals 30-28 in the paint, but Otterbein hit six three-pointers to the Belles' one.

Krista Knapke led the Belles with 13 points. Sarah Macius added nine points while Shanlynn Bias, Katherine Wabler, and Ariana Paul each chipped in eight points. Bernadette Jordan had a season-best six assists, and four players had four rebounds each to lead the Belles.

Saint Mary's (2-2) hosts Ohio Northern at 1:00 p.m. in day two of the Belles' Thanksgiving Classic.