Paul Powers Belles Past Thunder
Box Score

NOTRE DAME, Ind. - Ariana Paul had 18 points, 20 rebounds, five steals, and three assists to help lift the Saint Mary's basketball team to a 59-43 win over in-state conference rival Trine on Wednesday night.

The Belles jumped out to a 12-2 lead after the first 6:05 of play on Wednesday night by scoring on five of their first eight possessions of the game. Holding on to a 12-point lead with under seven minutes remaining before the half, Trine used seven straight points to slice the lead to 19-14 with under four minutes left on the clock. The Belles closed out the half by scoring the five unanswered points of their own on free throws by Ariana Paul, a layup by Katherine Wabler, and a layup by Emily Page to regain a 10-point (27-17) lead at the break.

Saint Mary's picked up where they left off in the second half as the Belles tallied eight of the first 10 points scored in the period to extend the lead to 35-19. Trine was able to edge within 10 points of the Belles four times in the half, but Saint Mary's stymied any attempt at a comeback. Leading the Thunder 49-39 with more than five minutes remaining, the Belles used a 10-1 run to put the game well out of reach. Krista Knapke, Wabler, and Shanlynn Bias all scored during that decisive stretch.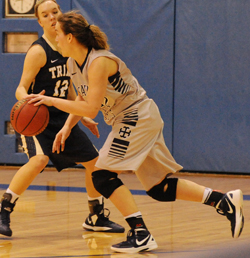 Ariana Paul looks to drive around a defender
in the second half on Wednesday.The Belles held a 52-32 advantage over the Thunder on the glass, which helped Saint Mary's score 21 second-chance points to Trine's six in the contest.

Ariana Paul led all players in points scored (18), rebounds (20), and steals (5) on the night. The 20 rebounds put her just three off the school record mark as she is just the third player in program history to pull down 20 rebounds in a single contest. Katherine Wabler added a career-high 11 points. Shanlynn Bias notched 10 points and a game-high six assists to go along with three steals.

The Belles (5-11, 3-4 MIAA) have a break from action this weekend and return to the hardwood next Wednesday when they travel to No. 6 Hope for a 7:30 p.m. game against the Flying Dutch.