Belles Stopped by Bulldogs in MIAA Opener
ADRIAN, Mich. - The Saint Mary's basketball team finished on the short side of an 80-70 contest at Adrian in the conference opener for both teams on Wednesday night.
Through the first nine minutes of action, the teams played to an 18-18 deadlock as a good jump shot by Timoney Moyer tied the game for the seventh time in the opening minutes of play.
The Bulldogs regained the lead on their next possession and pushed their advantage to eight points with a 7-0 spurt in a span of 1:21 to hold a 31-23 lead with 6:44 remaining before halftime.
Saint Mary's made it a 34-31 game with the Bulldogs still holding the lead less than five minutes before the break, but Adrian closed out the half with the final six points of the period to take a 45-33 into halftime.
The Belles out-scored the Bulldogs 17-6 over first 8:21 of the second period to pull within 51-50. Saint Mary's got within a point of the Adrian lead again at 53-52, but the Bulldogs never lost their lead. The Belles continued to chip away at the deficit and were within three points after Katherine Wabler hit a pair of free throws with 4:52 left in the game.
Adrian, however, pushed their advantage to 10 points with less than two minutes left in the game before winning by that same 10-point margin.
Saint Mary's finished the game with a 45-32 rebounding advantage, including 13 offensive rebounds to the Bulldogs' nine. Turnovers proved to be costly as Adrian scored 22 points off of 25 Saint Mary's giveaways while the Belles recorded just nine points on 15 Adrian turnovers.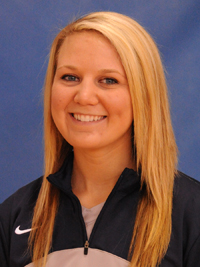 Eleni Shea scored a career-high
17 points.Eleni Shea scored a career-high 17 points and added seven rebounds, and Shanlynn Bias also tallied 17 points and tied her career-high mark with eight rebounds to lead all players in the game. Krista Knapke chipped in 12 points, and Ariana Paul rounded out the Belles' double-digit scoring efforts with 11 points. Both Knapke and Paul also pulled down seven rebounds.
The Belles (2-5, 0-1 MIAA) return home to host North Central (Ill.) on Saturday, December 7 starting at 3:00 p.m.