Belles Fall to Brits in Season Finale
ALBION, Mich. - The Saint Mary's basketball team ended their season with a 77-65 loss at Albion on Saturday afternoon.
The teams played a tightly-contested opening 10 minutes. Albion took a 10-5 lead through the first four minutes of play only to see the Belles match the Brits shot for shot over the following five minutes. A good jump shot by Shanlynn Bias followed by a pair of free throws by Bias made it a 12-9 contest with 14:07 on the clock. On the Belles' next possession, Ariana Paul drained a jump shot in the paint to make it a 14-11 affair.
Saint Mary's cut the deficit to one point at 14-13 on a second-chance jump shot by Shanlynn Bias with 12:56 left. A minute and 40 seconds later, the Belles edged within a point again (16-15) on a senior to senior combination as Katherine Wabler got on the scoreboard with a layup on a pass from Bias.
Albion followed a three-pointer up with a layup to pull ahead 20-15 with under ten minutes remaining in the opening half. Another Bias jump shot made it a 20-17, but the Brits responded with a 10-2 run to take an 11-point lead at 30-19.
Ariana Paul gave the Belles back-to-back baskets to shave four points off the deficit at 30-23, but Albion, riding high off their Senior Day emotions, came back with nine points in-a-row to extend their lead to 39-23 with 2:08 left in the first period.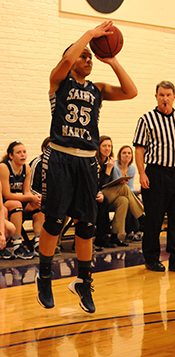 Shanlynn Bias makes a three-
pointer in the final minute of
play at Albion.Both teams put four more points each on the scoreboard over the final two minutes as Albion held the 43-29 lead at the break.
Saint Mary's made it a 12-point game at 43-31 and 47-35 to open the second half. The Brits went on a 9-0 run over the next 3:40 to push their advantage to 56-35 with 14 minutes even on the clock.
Albion maintained at least a 19-point lead over the next twelve-and-a-half minutes of play. The Belles made one last run at the Brits with an 11-0 run in a span of just 1:19. Maddie Kohler, Ariana Paul, Katherine Wabler, and Shanlynn Bias all scored for Saint Mary's in the final two minutes of play to make it a 75-65 game with 31 seconds left. Albion closed out the 77-65 decision with a pair of free throws as the Belles' comeback ran out of time.
Saint Mary's held an 18-13 advantage on the offensive glass and outscored Albion 32-22 in the paint.
Shanlynn Bias closed out her career with 19 points to lead the Belles and five assists. Ariana Paul had her third consecutive double-double with 18 points and 14 rebounds to go along with four steals. Katherine Wabler added eight points in the final game of her collegiate career.
The Belles end their season with a 7-18 overall record and a 5-11 mark in MIAA play.