Belles Squeeze Past Scots
ALMA, Mich. - The Saint Mary's basketball team picked up their second consecutive MIAA win with a 70-67 victory over Alma on Saturday afternoon.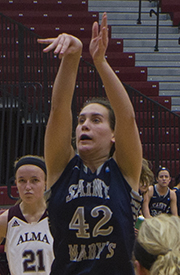 Ariana Paul shoots a free throw
in the first half at Alma. (Photo
courtesy of Robert Christe, Alma
Assistant SID)Trailing 61-51 with 8:51 left in the second half, the Belles mounted a 13-0 run to claim their first lead of the contest and pull ahead 64-61. Eleni Shea, Ariana Paul, Krista Knapke, and Shanlynn Bias all notched points for the Belles that gave Saint Mary's the lead with 4:08 remaining.
The Scots hit back-to-back jump shots as Alma regained the lead at 65-64 with with under two minutes left on the clock.
After a pair of Saint Mary's timeouts, Shanlynn Bias regained the lead for the Belles with a layup at 1:13. On their ensuing possession, the Scots responded with another good jump shot for a 67-66 advantage with 1:01 left in the game.
The Belles came back again with a good layup by Eleni Shea with :52 on the clock. The Saint Mary's defense came up with a big play on the next possession as the Belles forced the Scots into committing a turnover with 30 seconds remaining.
Alma fouled in order to try to set up the comeback, and Maddie Kohler drained both of her free throws to give the Belles a three-point cushion with 18 seconds to go.
The Scots had three three-point shot attempts over the final ten seconds of play, but each of those three efforts were off the mark as the Belles held on for the 70-67 win on the road.
Saint Mary's out-scored Alma 36-28 in the paint and had 22 points off of 20 turnovers by the Scots while limiting Alma to just nine points off of 12 turnovers by the Belles. The Belles had a +17 scoring margin over the second half, which is the second-best second half scoring margin for the team on the season (+28 vs. Northland).
Shanlynn Bias led all players with 20 points to tie her individual game career-high mark. Ariana Paul added 16 points and a game-high five steals. Eleni Shea picked up her first double-double of the season with 15 points and 11 rebounds to go along with four blocked shots.
The Belles (4-8, 2-1 MIAA) return home on Wednesday, January 8 to host second-ranked Hope in a 7:30 p.m. MIAA contest against the Flying Dutch.