Free Throws Propel Belles Past Ravens
NOTRE DAME, Ind. - The Saint Mary's basketball team hit 22-of-29 attempts from the free throw line while visiting Anderson made 9-of-11 from the charity stripe as the Belles claimed a 65-51 win over the Ravens on Tuesday night.
The Belles stormed out to an 11-point lead through the first 6:35 of playing time on their way to holding the upper hand in the scoring column throughout the contest.
Anderson managed to stay close during the first 20 minutes of play. With Saint Mary's up 23-13 with less than ten minutes left in the half, the Ravens hit a three-pointer followed by a fastbreak layup to edge within five points at 8:12.
Saint Mary's extended their lead back to double-digits less than four minutes later on a pair of free throws by Maddie Kohler and a layup by Shanlynn Bias for a 30-20 advantage. This time, the Ravens pulled within six points at 30-24. Saint Mary's closed out the half by out-scoring Anderson 9-4 to push the lead back to 11 at the break.
Ariana Paul opened up the second half with a good jump shot on the Belles' opening possession of the period. Not going away lightly, Anderson put six consecutive points on the scoreboard to make it a 41-34 contest with 17:42 remaining.
Saint Mary's squelched any thoughts of a comeback for the Ravens by going on a 12-0 run over a span of 5:23 to take their largest lead of the game at 53-34. Over that run, the Belles defense forced Anderson into four turnovers while holding the Ravens to 0-of-7 shooting from the floor.
The Belles maintained at least a 13-point cushion on their way to claiming the 65-51 win.
Saint Mary's translated 21 Anderson turnovers into 16 points while the Ravens scored just seven points off of 15 Belles giveaways.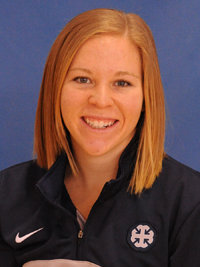 Maddie Kohler was 6-of-6 from the
free throw line to help pace the Belles.Shanlynn Bias led the Saint Mary's scoring efforts with 15 points. Krista Knapke had 11 points and nine rebounds while Ariana Paul had 11 points, four assists, and three steals. Maddie Kohler was a perfect 6-of-6 from the free throw line and hit a three-pointer for nine points. Eleni Shea added nine rebounds, seven points, and a career-best three blocked shots.
The Belles (2-3) return home to host Defiance on Saturday, November 30 at 3:00 p.m.