Bias Named to All-MIAA Second Team
ROYAL OAK, Mich. - For the second consecutive year, Saint Mary's guard Shanlynn Bias was named to the All-Michigan Intercollegiate Athletic Association (MIAA) Second Team as announced by the conference office this afternoon.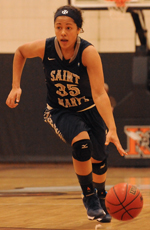 Bias, a senior from Griffith, Indiana (Griffith HS), was one of only 12 Michigan Intercollegiate Athletic Association women's basketball players to earn All-MIAA honors. Moreover, Bias is one of five conference players to be repeat honorees from the 2013 All-MIAA list.
The guard's senior season was the best of her career. Bias was fourth among all conference players in scoring with 252 points in 16 league contests to average 15.8 points per game. She was sixth in field goal percentage (50.7 percent) while posting the best field goal percentage among non-post players in MIAA games. Bias was also sixth in assists (48) and free throw percentage (77.1 percent) while tying for eighth among league players in steals (26).
It is the 14th consecutive season that a member of the Saint Mary's basketball team has earned either First Team or Second Team All-MIAA accolades. Moreover, of the 14 different players in the history of the program to earn all-conference honors, Bias is the seventh member of the Saint Mary's basketball program to be a repeat All-MIAA honoree.

2014 All-MIAA Women's Basketball Team:
Most Valuable Player
Maura McAfee, Hope (sophomore from Midland/Midland HS)
Defensive Player of the Year
Megan Kelley, Hope (senior from Rockford/Rockford HS)
All-MIAA First Team
Kelsey Campbell, Olivet** (senior from Olivet/Olivet HS)
Brett deBear, Albion* (senior from Plymouth/Salem HS)
Megan Kelley, Hope* (senior from Rockford/Rockford HS)
Stefanie Lang, Olivet* (junior from Valparaiso, Ind./Valparaiso HS)
Maura McAfee, Hope* (sophomore from Midland/Midland HS)
Breanna Verkaik, Calvin* (junior from Holland/Holland Christian HS)
All-MIAA Second Team
Nicole Antoine, Kalamazoo (senior from Lithonia, Ga./Lithonia HS)
Brittany Berry, Hope (senior from Grand Rapids/GR Catholic Central HS)
Shanlynn Bias, Saint Mary's (senior from Griffith, Ind./Griffith HS)
Chelsea Ciba, Olivet (senior from Olivet/Olivet HS)
LaQwana Dockery, Adrian (senior from Macomb Twp./Macomb Dakota HS)
Kayla Engelhard, Calvin (junior from Unionville/Saginaw Valley Lutheran HS)