Belles Fall to Knights
NOTRE DAME, Ind. - The Saint Mary's basketball team lost a 95-68 contest against Calvin in conference play on Wednesday night.
The Belles and Knights were in-step with one another to open the game when Eleni Shea hit a pair of free throws and Krista Knapke added a good jump shot to make it an 11-10 game in favor of Calvin. Three minutes later, Saint Mary's cut the Knights' lead in half as Knapke sunk a layup and Timoney Moyer drained a jumper to make it an 18-14 affair with 11:48 remaining in the half.
With ten minutes left before halftime and Calvin holding a 23-16 lead, the Knights scored six unanswered points to extend their advantage to 29-16 just two minutes later for their largest advantage to that point in the contest. After another Knapke layup made it an 11-point game, Calvin posted four-straight points to go ahead 33-18.
The Knights held at least a 14-point lead over the remainder of the half and went to the locker room with a 51-31 advantage at the break.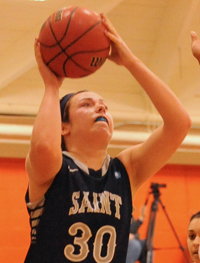 Krista Knapke led the Belles with
16 points.The Belles refused to go down quietly in the second half. Ariana Paul, Knapke, and Shanlynn Bias gave Saint Mary's four consecutive baskets to chip into the Calvin lead and make it a 56-43 game with more than 16 minutes on the clock.
Trailing by that same 13-point margin five minutes later, the Belles edged within nine points of the Knights at 64-55 after Shea and Bias both made jump shots.
Calvin, however, responded with a run of their own and posted ten unanswered points to balloon their lead to 19 at 74-55 with 7:48 remaining. The Knights maintained at least an 18-point lead over the Belles during the final seven-and-a-half minutes of play to deal Saint Mary's the loss at home.
Turnovers turned out to be costly in the contest for Saint Mary's as Calvin scored 33 points off of 22 turnovers by the Belles while Saint Mary's recorded 12 points off of 13 giveaways by the Knights.
Krista Knapke led the Belles with 16 points and added seven rebounds. Ariana Paul chipped in 15 points with seven rebounds. Shanlynn Bias scored 15 points and led all players with five assists. Eleni Shea also added a double-digit scoring effort with 10 points and six rebounds.
Saint Mary's (4-11, 2-4 MIAA) return to action on Saturday, January 18 when they host Albion for a 3:00 p.m. MIAA game.