Belles Defeated by No. 2 Flying Dutch
NOTRE DAME, Ind. - The Saint Mary's basketball team lost a 93-53 contest against second-ranked Hope at home on Thursday night.
After the Flying Dutch opened up the game with good baskets on their first three possessions, Saint Mary's answered right back with a pair of good jump shots by Shanlynn Bias and a layup by Krista Knapke to make it a 7-6 game less than four minutes into the contest.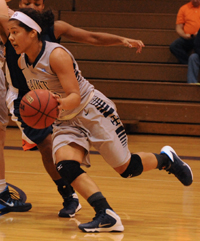 Shanlynn Bias scored a game-high
15 points.The Belles then countered Hope baskets with a pair of second-chance layups by Ariana Paul and Bias after cleaning up the offensive glass to keep Saint Mary's within two points of the Flying Dutch lead at 12-10 five minutes into the first half of play.
Hope, however, quickly extended their lead to 18 points with a 19-3 run in a span of 4:13 for the 31-13 advantage with 10:48 remaining before the half. Bias and Eleni Shea cut that lead to 14 points at 31-17, but a 12-0 run for the Flying Dutch made it a 43-17 affair with 7:19 on the clock in the first period.
From that run on through the remainder of the game, Hope maintained at least a 20-point lead over Saint Mary's on their way to the 93-53 final decision.
The Belles connected on 34.8 percent of their shots from the floor while Hope was good on a blistering 52.8 percent of their field goal attempts, marking the highest field goal percentage an opposing team has shot against Saint Mary's this season.
Shanlynn Bias led all players with 15 points while adding two assists and two steals. Ariana Paul scored 11 points, and Eleni Shea posted 10 points to round out the Belles double-digit scoring efforts. Krista Knapke led all players in the game with nine rebounds.
The Belles (4-9, 2-2 MIAA) travel to Kalamazoo on Saturday, January 11 for a 3:00 p.m. MIAA contest against the Hornets.