Belles Topple LumberJills
DE PERE, Wis. - The Saint Mary's basketball team notched their first win of the 2013-14 campaign with a decisive 83-33 victory over Northland College in the consolation contest of the St. Norbert Tip-Off Tournament.
The Belles jumped out to a huge lead by scoring the first 22 points of the game for a 22-0 lead less than nine minutes into the contest. Saint Mary's never looked back while extending their lead to as much as 52 in the second half against the LumberJills.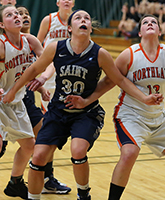 Krista Knapke looks to pull
down a rebound. (Photo credit:
Larry Radloff, d3photography.com)The 83 points scored by Saint Mary's are the most for the Belles in a game since Saint Mary's defeated Kalamazoo by a 90-59 score on January 20, 2011.
The Belles were dominant in nearly every statistical category. There were 25 Saint Mary's assists on 39 made baskets as the Belles made more shots from the floor than Northland attempted (38). The Belles held a 57-19 advantage in rebounds as Saint Mary's had more offensive rebounds (29) and defensive boards (28) separately than the LumberJills tallied collectively. Each of the ten team members that played for Saint Mary's saw between 16-24 minutes of play in the balanced team effort.
Krista Knapke picked up her first double-double of the season with 12 points to go along with a career-high 16 rebounds. Of her 16 boards, 10 of them came on the offensive end. Shanlynn Bias, who was named to the all-tournament team, led all players with 16 points. Kesley Ronan notched 11 points, and Eleni Shea rounded out the Belles' double-digit scoring efforts with 10 points.
All ten Belles that saw playing time scored at least four points while tallying at least a rebound apiece.
The Belles (1-1) travel to Wheaton College (Ill.) next weekend for a tournament as they take on Buena Vista (Iowa) on Friday.