Early Deficit Too Much to Overcome for Belles Against Comets
NOTRE DAME, Ind. - The Saint Mary's basketball team cut a 10-point deficit to just three but could never overtake nationally-ranked Olivet at home as the Comets claimed the 89-72 decision.
The #18/#23 (d3hoops.com/USA Today Sports) Comets opened the game with a 15-5 spurt through the first 4:29 after making seven of their first nine shots from the floor. With the Comets clinging on to a nine-point advantage three minutes later, the Belles made a big push to get back into the thick of things. Riding the hot shooting hand of Ariana Paul, the Belles posted six consecutive points to cut the deficit to three points at 21-18 with 10:23 remaining in the first half.
Olivet responded by producing six points on back-to-back possessions - a three-point play and a three pointer in the span of 24 seconds - to kick-start a 22-7 run to end the half.
Each time the Belles tried to chip away at the Comets in the second half, Olivet came up with the response bucket to keep at least a 12-point lead over Saint Mary's over the final 20 minutes.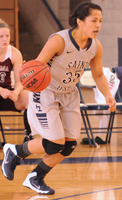 Shanlynn Bias scored
a career-best 24 points
against Olivet.Saint Mary's had 34 of their 46 points in the paint, 16 of their 18 points off of turnovers, and 12 of their 14 points off of the bench come in the second half. The 13 turnovers by the Belles was one off of matching the fewest total of giveaways committed in a game this season (12 vs. Defiance, at Alma). The Comets held the 51-37 rebounding advantage and scored 60 of their 89 points in the paint.
For the second consecutive game, Shanlynn Bias posted a career-best scoring effort by leading the Belles with 24 points. Eighteen of those 24 points for Bias came in the second half as Saint Mary's outscored the nationally-ranked Comets 47-46 in the second stanza. Ariana Paul picked up her second double-double in as many games with 19 points and 14 rebounds to go along with four steals. It was the eighth double-double of the junior's career. Heather Pesigan added a season-best and team-high four assists.
The Belles (7-17, 5-10 MIAA) close out the season on Saturday, February 22 when they travel to Albion for a 3:00 p.m. contest against the Brits.