Belles Bounce Thunder
NOTRE DAME, Ind. - The Saint Mary's basketball team opened the game with a 13-3 run and led from start to finish in a 60-42 final against in-state conference rival Trine on Saturday.
Saint Mary's scored the first eight points of the game and never looked back against the Thunder. The Belles turned their first three possessions into six points. After coming up short on their next three possessions, the Belles had back-to-back buckets to push their lead to 13-3 through the first six minutes of play.
Each time the Thunder tried to chip away at the lead, the Belles came up with a response. With 8:09 remaining before the half, Krista Knapke gave Saint Mary's an eight-point advantage with a good layup. Trine notched the next four points in-a-row to cut the lead in half at 23-19 with 4:53 on the clock.
The teams traded points back and forth, and the Thunder kept it a four-point contest with a layup in the final three minutes of the half. The Belles came back with a big blow to Trine's momentum as Saint Mary's closed out the half by out-scoring the Thunder 8-3 for a 35-25 halftime lead.
After the Belles extended their lead to 14 points through the opening four minutes of the second half, Trine made one more run to edge within 41-33 by scoring six points in a 33-second span.
Saint Mary's put an end to the run and the comeback attempt with a 12-0 run to pull ahead 53-33 with 8:18 left in the game. The Belles led by at least 15 points over the final eight minutes on their way to the 60-42 final decision.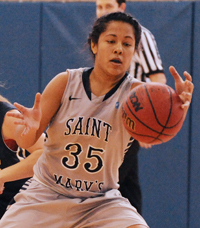 Shanlynn Bias tracks down a loose
ball in the second half against Trine.The Belles out-rebounded Trine 47-28 with a 35-18 advantage on the defensive boards. Saint Mary's also connected on 43.4 (23-of-53) percent of their shots from the floor to Trine's 27.1 (16-of-59) field goal percentage.
Shanlynn Bias notched her first career double-double with 14 points and a game-high 11 rebounds to go along with four assists and three steals. Ariana Paul also tallied 14 points with eight rebounds. Krista Knapke chipped in 13 points and nine rebounds.
The Belles (3-6, 1-1 MIAA) are off until after Christmas when they travel to Florida for the Land of Magic Classic on December 28 and 29.