Belles Bow to Bantams
DAYTONA BEACH, Fla. - The Saint Mary's basketball team ended on the wrong side of a 61-53 final score against Trinity (Conn.) in the Land of Magic Classic on Saturday afternoon.
The Belles opened up the game with a 10-4 lead and held the Bantams at bay early. Trinity chipped their way back into the game with three baskets in-a-row to tie the game at 16-16 with 9:47 remaining in the first half. That same run by the Bantams continued with three more baskets, ultimately turning a six-point deficit into a six point lead for Trinity at 22-16 with five-and-a-half minutes left on the clock.
That run by Trinity proved to be the last lead shift in the game as the Bantams never trailed again in the contest.
The Belles continued to show their gritty determination to keep within striking distance. Saint Mary's out-scored Trinity 8-1 over a three-minute span early in the second half to pull within 32-31. Trinity regained a four-point advantage, but the Belles again edged within 35-34.
After a seven-point spurt by the Bantams made it an eight-point game, Saint Mary's went on another charge to make it a one-possession game at 44-42 with 9:00 on the clock in the second period.
This time, a 9-1 run by Trinity proved to be too much to overcome as the Bantams led by at least four points over the final five minutes of play.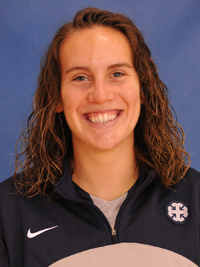 Ariana Paul had 21 points and 11
rebounds for the Belles.Saint Mary's held the advantage on the boards by out-rebounding Trinity 42-37, but the Bantams scored 40 points in the paint compared the Belles' 18.
Ariana Paul tied her career-high with 21 points and added 11 rebounds for her first double-double of the season to pace the Belles. Shanlynn Bias chipped in 13 points. Eleni Shea matched Paul's rebound output with 11 boards.
The Belles (3-7) take on Connecticut College at 10:00 a.m. Sunday morning in the Land of Magic Classic hosted by Embry-Riddle in Daytona Beach, Florida.