Belles Downed by No. 2 Warhawks to Open Season
DE PERE, Wis. - The Saint Mary's basketball team had a tall order to open the season when they faced off against 2013 National Runner-Up UW-Whitewater. The second-ranked Warhawks scored the first 11 points of the game on their way to a 107-61 decision over the Belles at the St. Norbert Tip-Off Tournament on Friday night.
After Whitewater's quick start, the Belles responded with seven-straight points to set the score at 11-7. The Warkhaws came right back with buckets on four of their next five possessions to push their lead back into the double digits at 19-7. From there, the second-ranked team in the country continued to maintain at least a 10-point advantage over Saint Mary's.
Whitewater out-scored the Belles by a 23-6 margin over the final seven minutes of the half to take a 52-22 lead into the break.
The second half was much more evenly played as the Belles made better than 50 percent of their attempts from the floor over the final 20 minutes. The Warkhawks, however, claimed the largest lead of the contest with just over six minutes remaining when a good three-pointer put Whitewater ahead 95-48.
Whitewater hit 48.7 percent (38-of-78) of their shots from the floor to the Belles' 41.5 (27-of-65) attempts from the floor in the game. The Warhawks were also strong at the charity stripe, connecting on 21 of 29 (72.4 percent) of their trips to the line. Saint Mary's was 42.9 percent (6-of-14) from the free throw line in the game.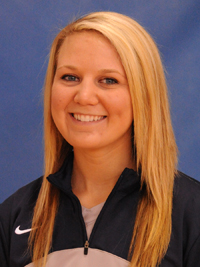 Eleni Shea scored 15 points to lead
the Belles.Eleni Shea led the Belles with 15 points while adding six rebounds. Ariana Paul added 14 points while leading the team with seven rebounds and three steals. Shanlynn Bias tallied double-digits points with 12.
The Belles (0-1) face off against Northland in the consolation game of the St. Norbert Tip-Off Tournament tomorrow at 1:00 p.m. CST.