Second-Half Run Pushes Thunder Past Belles
WHEATON, Ill. - The host Thunder out-scored Saint Mary's by 20 points in the second half as the Belles lost 74-51 on day two of the Beth Baker Classic on Saturday.
Saint Mary's jumped out to a quick 8-2 lead less than four minutes into the game with good buckets by Ariana Paul, Eleni Shea, Krista Knapke, and Shanlynn Bias. The Belles maintained an advantage over the Thunder until Wheaton knotted the game at 11-11 with 11:32 on the clock in the first half. The game stayed a one-possession affair over the next six minutes after Saint Mary's regained the lead after a 13-13 tie by going up by three points on a pair of occasions.
In the back-and-forth first half, the Belles saw their three-point lead with 7:14 remaining swing to a four-point Wheaton advantage less than two minutes later after a 7-0 run by the Thunder. Saint Mary's responded with a six-point spurt to go up 24-22 with 3:35 minutes left in the first period. Continuing to trade blow for blow, the lead switched hands three times over the next minute and a half before Wheaton went into halftime up by a 30-27 score.
The Thunder stormed out of the break to claim a 12-point lead over the first 4:46 of the second period. The Belles came back with four points in-a-row on a good jumper by Bias and a pair of free throws by Katherine Wabler to make it a 43-35 game. But five consecutive missed shots and a pair of turnovers by Saint Mary's coupled with two good layups and a three-pointer by Wheaton meant the Thunder took their largest lead of the game to that point with a 15-point advantage at 50-35.
Heather Pesigan and Bias each scored for the Belles to get Saint Mary's within 11 with under nine minutes left in the game, but an 11-2 run for the Thunder put the game away as the Belles ended on the wrong side of the 74-51 final.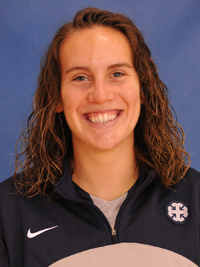 Ariana Paul led the Belles in points,
steals, and assists.Ariana Paul led all Saint Mary's players with 14 points, four assists, and three steals. Krista Knapke, who was named to the all-classic team, and Shanlynn Bias each added eight points while Knapke led the Belles with six rebounds. For the third consecutive game, every member of the Saint Mary's lineup that saw playing time scored at least a point.
The Belles (1-3) have their home opener on Tuesday, November 26 as they host in-state opponent Anderson at 7:30 p.m.