Late Push Falls Short for Belles at Alma
ALMA, Mich. - Saint Mary's dialed up the defense and edged within eight points late in the game, but the comeback effort fell short as the Belles basketball team lost an 81-70 conference game at Alma on Saturday night.
Alma claimed an early 13-8 lead through the first four and a half minutes of play, but the host Scots ballooned that advantage to 26 with a 26-5 run over the next eight minutes to pull ahead 39-13 with 7:21 to go in the first half.
With a good baseline jump shot just before the buzzer in the final second of the first half, the Scots took a 47-26 lead at the break.
The Scots held on to a sizable lead throughout the first ten minutes of the second half, but the Belles put up a battle over the final ten minutes of play.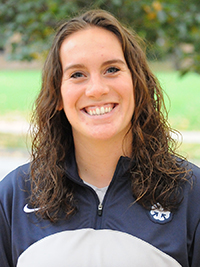 Ariana Paul led the Belles with 21
points and 12 rebounds.Down 59-41 with 12:16 on the clock, the Belles put together a quick 8-1 scoring spurt to make it a 60-49 game and breathe some energy into the Saint Mary's effort with 9:50 to go. Sarah Macius and Molly Robinson each hit a shot, and Ariana Paul and Eleni Shea drained four consecutive free throws.
The Scots pushed their advantage back to 14 points four different times, but the Belles continued to play hard late. Six straight points by Saint Mary's made it a 73-65 game with less than two minutes left. Paul, Shea, and Krista Knapke combined their made free throws for the late run to keep the game in question.
Alma, however, regained a double-digit lead for good with a layup with 1:01 remaining as the Belles' comeback ran out of time.
Saint Mary's out-scored Alma 44-34 in the second half and the Belles hit a season-best 32 free throws in the game compared to Alma's 23. The Belles also held an 18-7 edge against the Scots in second-chance buckets as Saint Mary's pulled down 21 offensive boards to Alma's 11.
Ariana Paul led Saint Mary's with 21 points and 12 rebounds on the night. Eleni Shea added 16 points, which included a 12-of-13 effort from the free throw line, to go along with seven rebounds. Krista Knapke posted 15 points and seven rebounds.
The Belles (3-15, 1-8 MIAA) return home to host Trine on Wednesday, January 28 starting at 7:30 p.m.