Belles Stopped by Fifteenth-Ranked Knights
GRAND RAPIDS, Mich. - The Saint Mary's basketball team lost a 92-52 conference game at No. 15 ranked Calvin on Wednesday night.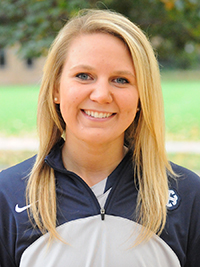 Eleni Shea led the Belles with 16
points and seven rebounds.The Belles competed right with the Top 25 Knights at the opening whistle. Eleni Shea battled her way to a steal, and Maddie Kohler drained a three-pointer from a step behind the arc to put the Belles up 3-0 a minute into the game.
After back-to-back baskets by the Knights, the Belles responded with consecutive buckets of their own. Kohler connected with Shea on a pass, and Shea sunk the mid-range jump shot on the fastbreak to regain the lead for Saint Mary's.
Ariana Paul then came up with a steal and cut her way through the lane for a layup with 15:48 on the clock to put the Belles ahead 7-4.
After a set of substitutions for the Knights, Calvin dialed up the defensive pressure with a fast-paced two-player trap. The up-tempo defense resulted in turnovers by the Belles on their next three possessions, and the Knights capitalized on the miscues by hitting layups on each of those extra possessions.
That spurt jump-started a 17-0 run by the Knights as Calvin claimed a 21-7 advantage midway through the first half of play. With a pair of free throws in the closing seconds of the opening period, the Knights pushed their lead to 30 points as Calvin took a 51-21 lead into the halftime break.
The Knights maintained at least a 32-point lead over the Belles throughout the second half of play on the way to the 92-52 final.
Eleni Shea led the Belles with 16 points and seven rebounds. Ariana Paul added 13 points, five steals, and five rebounds. Krista Knapke posted six points and three steals, and Maddie Kohler had five points and three steals on the night.
The Belles (3-12, 1-5 MIAA) return home for the first time in nearly a month when they host Albion on Saturday, January 17 for a 3:00 p.m. conference game.