Belles Topped by Twelfth-Ranked Flying Dutch
HOLLAND, Mich. - The Saint Mary's basketball team lost an 86-44 conference game against USA Today Sports Top 25 twelfth-ranked Hope on Friday night.
The Flying Dutch opened the game with a 12-0 run over the first 3:10 of action on Friday night. Hope extended their lead to 17 points at 19-2 with 14:59 still remaining in the first half of play.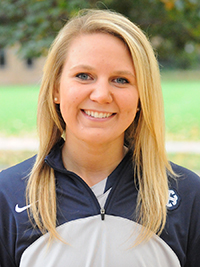 Eleni Shea led all players with 15
points on Friday night.The Belles were far from going down without a fight against the Flying Dutch. Saint Mary's put together a 10-2 run over the next six minutes of play. Eleni Shea scored six straight points for the Belles. Two minutes later, Gabby Diamond and Ariana Paul each scored for Saint Mary's on consecutive possessions to pull the Belles within 21-12 of Hope.
The host Flying Dutch cut the comeback short for the Belles with a 12-0 run over the next four minutes to pull ahead 33-12 with just under five minutes remaining in the half. Heading into the break, Hope held a 41-16 lead at the midpoint of the game.
Hope held at least a 21-point lead over the final 20 minutes of play as the Flying Dutch claimed the 86-44 final.
The Belles posted a collective 16-of-20 (80 percent) shooting performance from the free throw line while limiting the Flying Dutch to a 2-of-6 night at the line. Both teams tallied 44 rebounds in the game with the Belles claiming the edge in offensive boards with 20 to Hope's 17.
Eleni Shea led all players with 15 points, which included a 9-of-10 effort from the charity stripe. Krista Knapke chipped in six points and eight rebounds, and Ariana Paul paced all players with 11 rebounds.
The Belles (3-5, 1-2 MIAA) return to action tomorrow at 1:00 p.m. when they face off against Saint Vincent (Pa.) in day two of Hope's Post Exam Jam Tournament.