Belles Out-Dueled by Cardinals
NAPERVILLE, Ill. - The Saint Mary's basketball team lost a 100-84 contest at North Central despite shooting 52.9 percent from the floor.
The Belles were 37-of-70 for the floor in the game to post their best shooting percentage since shooting 51.9 percent against North Central at home a year ago. The host Cardinals, meanwhile, were one three-point attempt off of the NCAA Division III record for attempts in a game with 67 while connecting on 16 of them.
The Belles were able to capitalize on some transition buckets and strong rebounding early to turn a 2-1 deficit into a 9-2 lead through the first four-and-a-half minutes of play for what proved to be their largest advantage of the game.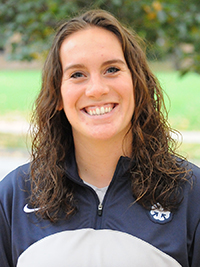 Ariana Paul led all players with 20
points and 20 rebounds on Friday
night.On their eleventh three-point attempt of the game, the Cardinals connected to make it 9-5 with the Belles holding on to the lead. After North Central scored on a layup off of a Saint Mary's turnover to make it 9-7, the Belles countered with a layup of their own to hold an 11-7 lead with 14:08 left in the first half.
North Central used a pair of free throws to jump start a 12-0 run to pull ahead 19-11 with just over 12 minutes remaining on the clock. The Belles stayed well within striking distance and chipped away at the deficit with back-to-back layups by Molly Robinson to make it a 21-17 contest with 10:28 to go before the break.
A minute later, Ariana Paul made it a four-point game at 23-19 with the Cardinals still leading after hitting a layup of her own. A quick spurt saw North Central pull ahead 28-19, but again the Belles had a response with back-to-back baskets by Paul and Krista Knapke to make it 28-23 with 5:17 on the clock.
The continued full-court pressure coupled with the quick-shooting offense of the Cardinals resulted in North Central scoring ten points in a span of 1:40 to balloon their lead to 15 at 40-25.
Paul and Knapke provided additional offense to get the deficit back into single digits at 41-32 with 45 seconds left, but the Cardinals took a 44-33 lead into the halftime break.
Robinson sunk a layup on the Belles' first possession of the second period to once again make it a nine-point contest at 44-35, but a made three-pointer by North Central on their ensuing possession pushed the lead back to double digits for good.
Saint Mary's out-scored North Central by a 60-32 margin in the paint while the Cardinals held a 38-20 edge in points off of turnovers.
Ariana Paul led all players in the game with 20 points and 20 rebounds to match her career-high total from two seasons ago. Krista Knapke added a double-double of her own with 17 points and 11 rebounds. Gabby Diamond posted a season-high 13 points, and Eleni Shea chipped in 11 points. Maddie Kohler led all players in the game with five assists.
The Belles (0-3) are back on the court tomorrow when they take on Trinity International at noon Central Standard Time at day two of North Central's Chicago Marriott Naperville Tip-Off Tournament.