Belles Sunk by Vikings
NOTRE DAME, Ind. - The Saint Mary's basketball team lost a 92-68 contest to North Park at home on Tuesday evening.
The two teams played a closely-contested opening seven minutes as both teams traded the lead back-and-forth early. A good jump shot by Timoney Moyer at the 12:52 mark gave Saint Mary's a 6-5 advantage. The Vikings, however, responded with what proved to be a decisive 18-0 run over the next six minutes of play to establish a 23-6 lead they would not relinquish. During that run, North Park went 9-of-9 from the free throw line as trips to the charity strip ultimately made the difference in the game.
Eleni Shea drained a three-pointer - the first of her collegiate career -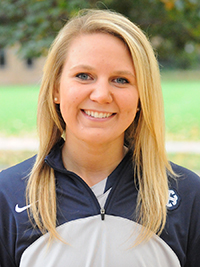 Eleni Shea had 11 points and
four assists while hitting the first
three-pointer of her career.in the final seconds of the opening half of play to give the Belles some momentum heading into halftime as Saint Mary's trailed 39-23 at the break. The Belles then opened up the second half with a layup by Krista Knapke and a three-point play by Molly Robinson to cut the deficit to 11 at 39-28.
The Belles played neck and neck with the Vikings over the entire second period of play. Both teams kicked up the offensive tempo of the game as 21 combined points were scored in a span of just 3:40 midway through the second half. The Belles' comeback was hindered as more than half of those 21 points were put on the scoreboard by the Vikings.
Saint Mary's made 26-of-60 shots from the floor (43.3 percent) while the Vikings hit 27-of-59 shots (45.8 percent). The big difference maker, however, was North Park's 33-of-37 (89.2 percent) performance at the free throw line to the Belles' 15-of-27 (55.6 percent).
Krista Knapke and Ariana Paul each had 15 points to lead the Belles offensively while Eleni Shea posted 11 points in the game. Molly Robinson added eight points, three steals, and a game-high seven rebounds. Maddie Kohler and Shea chipped in four assists apiece.
The Belles (0-2) travel to North Central for a two-day tournament starting on Friday, November 21. Saint Mary's kicks off play against host North Central at 5:00 p.m. CST.