Belles' Streak Stopped by Thunder
ANGOLA, Ind. - The Saint Mary's basketball team had their winning streak interrupted by conference rival Trine as the Thunder claimed a 97-66 decision on Saturday afternoon.
Trine regained an early lead with a three-pointer to go ahead 9-8 less than five minutes into the game, but Saint Mary's responded with a 7-0 run to pull ahead 15-9. Maddie Kohler kick-started the scoring spurt with a three-pointer of her own while Eleni Shea and Ariana Paul each drained a bucket to give the Belles their largest lead of the game.
With the Belles holding on to a five-point lead two-and-a-half minutes later, the Thunder tallied five consecutive points on two consecutive possessions to draw even at 19-19.
Over the next five minutes, the teams played neck and neck as the game featured four ties and three lead changes. The last of those ties came at 29-29 with 5:32 remaining in the first half. The host Thunder scored on their next two possessions to go ahead 33-29. The Thunder pushed that advantage to a nine-point cushion, but the Belles hit a pair of free throws in the final minute to stay well within striking distance at 42-35 at the half.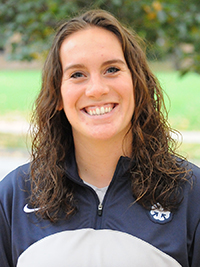 Ariana Paul led the Belles with 18
points and six rebounds.Trine, however, opened up the second half with nine straight points to push their lead to 16 at 51-35. The Belles were able to chip away at the deficit and pulled within 57-46 with 12:02 to go, but the Thunder used a 14-5 run to distance themselves for good.
Ariana Paul led the Belles with 18 points and six rebounds, and Eleni Shea added 14 points with a pair of blocked shots. Maddie Kohler chipped in nine points as nine different players scored in the game for Saint Mary's.
The Belles (3-4, 1-1 MIAA) return to action next Friday night when they travel to Hope and play the Flying Dutch at 5:30 p.m. in the first day of a two-day tournament.