Belles Outlasted by Thunder
NOTRE DAME, Ind. - The Saint Mary's basketball team held visiting Trine scoreless over the final 3:39 of play, but the Belles were unable to come back as the Thunder took the 70-58 final.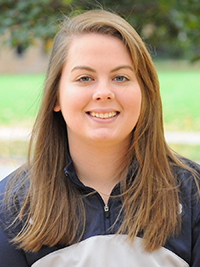 Kelsey Ronan matched her career
high with 11 points on Wednesday
night.The Thunder jumped out to a 12-0 lead through the first 3:29 of play after scoring on five of the first six shots they took in the contest. Kelsey Ronan got the Belles on the scoreboard with 16:14 left on the clock in the half, but the Trine offense did not slow down as the Thunder continued to put up a blistering shooting percentage. Through the opening 8:16 of play, Trine made 10 of their 13 shots from the floor (76.9 percent), which included a 5-of-5 mark from behind the three-point line. Over that same span of time, the Belles were 3-of-12 (25.0 percent) from the floor.
After Trine went up 27-8, the Belles cut the deficit down to 15 twice with Sarah Macius making it a 29-14 contest on a good jump shot. Less than a minute later, Ronan sunk a layup with more than six minutes left before the half to make it a 31-16 game. With five consecutive points, the Thunder established a 20-point lead and later took that same 20-point advantage to the locker room with a 43-23 advantage at the half.
The second half saw Saint Mary's make more shots from the floor and more free throws while outscoring the Thunder 35-27 over the final 20 minutes of play.
The biggest spurt of those 35 points came in the final 3:17 of the game. Trailing 70-46, the Belles went on their largest run of the game with a 12-0 run during the closing minutes of the game. Ariana Paul, Eleni Shea, and Sarah Macius combined to score all 12 points for the Belles down the stretch.
Kelsey Ronan, Eleni Shea, and Ariana Paul each scored 11 points for the Belles. The 11 points matched a career-high for Ronan while Paul added game-highs of nine rebounds and five steals. Krista Knapke tallied eight points for Saint Mary's on the night.
The Belles (3-16, 1-9 MIAA) return to action on Saturday, January 31 when they host Hope in a 3:00 p.m. conference game at Angela Athletic Facility.