Belles Double Up Trojans in Win
NAPERVILLE, Ill. - The Saint Mary's basketball team scored more than twice as many points as Trinity International as the Belles earned a 79-36 win at North Central's Chicago Marriott Naperville Tip-Off Tournament on Saturday.
The Belles opened up the game with a 10-0 run and never looked back. Ariana Paul and Gabby Diamond each drained a pair of buckets and Eleni Shea scored a layup for the early lead for Saint Mary's.
The Trojans pulled within seven at 12-5 with a layup at the 12:28 mark in the first half, but the Belles rattled off an 11-1 run to regain a 17-point advantage with less than seven minutes remaining in the opening period.
Saint Mary's continued to extend their lead as the Belles went ahead by 21 with a layup by Shea less than ten seconds before the halftime break.
Midway through the second half, Saint Mary's put eight straight points on the scoreboard during a span in which they out-scored the Trojans 16-4. That stretch pushed the Belles' lead to 33 points at 63-30 with 6:35 remaining in the contest.
The scoring margin was in favor of Saint Mary's by at least 30 points throughout the remainder of the game. The Belles closed out their first win of the season with a 8-0 run over the final 2:24 for the 79-36 victory.
Saint Mary's shot nearly 40 percent from the floor with a 29-of-73 effort in the win while also converting 75 percent (21-of-28) of their trips to the free throw line.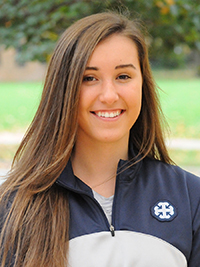 Gabby Diamond led Saint Mary's
with 13 points.Eleven different players scored points in the win for Saint Mary's. Krista Knapke, Eleni Shea, and Ariana Paul each had a double-double as five players scored in double-digits for the Belles. Knapke had 11 points and 10 rebounds, Shea added 11 points and 12 rebounds, and Paul posted 12 points and 11 rebounds. Gabby Diamond led Saint Mary's in scoring with 13 points, and Sarah Macius chipped in 11 points. Maddie Kohler had four assists and two steals while Paul also snagged a pair of steals.
At the conclusion of the tournament, Ariana Paul was named to the all-tournament team for her efforts on the weekend. The senior scored 32 points and pulled down 31 rebounds in the two Saint Mary's games.
The Belles (1-3) travel to Anderson for a 7:30 p.m. game against the Ravens on Tuesday, November 25.