Belles Topped by Nationally-Ranked Wheaton
NOTRE DAME, Ind. - The Saint Mary's basketball team opened up the season with a 78-41 loss to No. 19 ranked Wheaton at home on Saturday afternoon.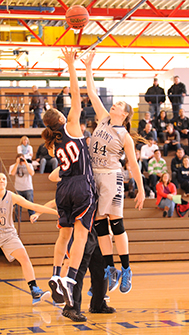 A three-point play less than three minutes into the game by Krista Knapke gave the Belles a 3-2 advantage as both teams were in search of an offensive rhythm. The visiting Thunder was the team that was able to find that rhythm while forcing the Belles into a handful of turnovers. That combination translated into the Thunder out-scoring the Belles 33-5 over the next 17 minutes of play as Wheaton held a 35-8 lead at the halftime break.
The second half was a different story for the Belles. Saint Mary's was able to get the offense going early and took advantage of 13 of their 19 trips to the free throw line while playing the Thunder to a 43-33 second period. The Belles scored on three consecutive possessions midway through the second half. Saint Mary's did their best to capitalize on 13 giveaways by the Thunder by translating those extra possessions into 14 points.
The Belles forced Wheaton into 26 turnovers in the contest while cutting their own turnovers nearly in half in the second period of play.
Krista Knapke led the Belles on the day with nine points. Eleni Shea added seven points, and Timoney Moyer and Gabby Diamond each chipped in six. Diamond paced the Belles with six rebounds.
The Belles (0-1) are back in action on Tuesday, November 18 when they host North Park at 7:30 p.m.