Caroline Blue
Student Profiles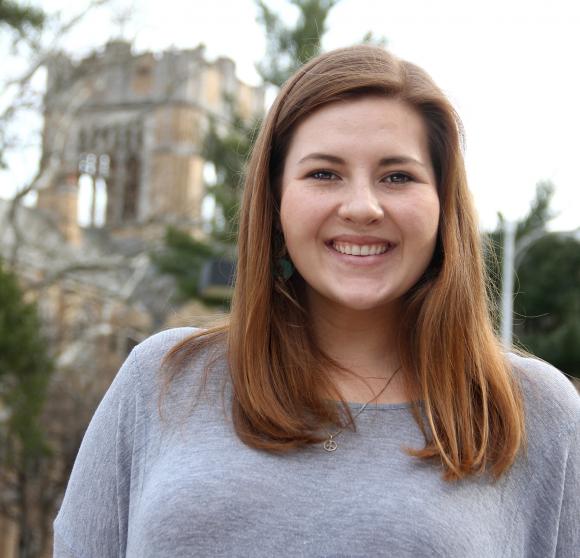 "I've found a place to call home."
Growing up, Caroline Blue '19 listened to her father reminisce about playing on The Avenue while visiting his sister at Saint Mary's College. Those stories turned into a dream for Caroline, that she would make her own memories at Saint Mary's.
When she arrived on campus in the fall of 2015 for her first year, Caroline sensed that she would flourish here — and flourish she has. The intended communication studies major has found a community that sustains her.
"My friends and professors here are a great support system. They are helping me find the path I want to take."
In fall 2016, Caroline was awarded the Realizing the Dream grant. The grant is awarded to first generation college students, or students with one parent who went to college, who attend an independent Indiana college or university. The award is given to current sophomores based on their academic achievements in their first year of undergraduate study.
Caroline applied for the grant "just to see" what would happen, not thinking anything would come of it. Months later, as she sat in front of her computer at John Cabot University during her semester studying abroad in Rome, Caroline was pleasantly surprised to find out she had been chosen to receive the $2,500 grant.
"I am grateful to Saint Mary's for giving me this opportunity," Caroline said.
Recipient of the grant may choose an influential teacher to receive an award of $1,000 to spend on classroom essentials. Caroline nominated one of her favorite former teachers, Sister Colleen Bauer who teaches second grade at Saint John the Evangelist Catholic School in Goshen.
Opportunities like the Realizing the Dream grant have helped Caroline accomplish her goals while benefiting from a transformative education.
"Becoming a Saint Mary's woman was one of the best decisions I've made in my life. I've found a place to call home."
Written by Claire Condon '17, media relations intern and communication studies major with minors in English Writing and public relations/advertising