Luz Hernandez
Student Profiles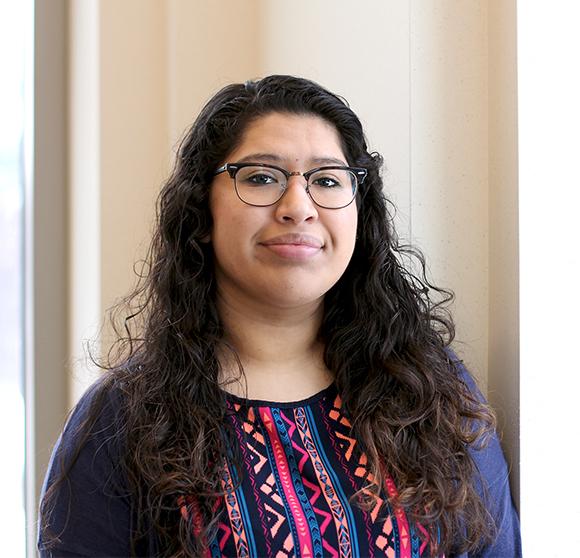 "I fell in love with the atmosphere of the campus."
Luz Hernandez '18 knew she wanted to attend Saint Mary's from the moment she first drove down The Avenue. Luz's cousin, a Saint Mary's student, introduced her to the College, and Luz was immediately attracted to campus. Luz, who is originally from Chicago, later moved to South Bend, and was able to visit Saint Mary's more easily.
"I fell in love with the atmosphere of the campus. It was quiet, peaceful, and absolutely beautiful. Saint Mary's was definitely my first choice of schools."
Developing connections
Beginning the first year of college can be a rough transition for any student, but Luz's transition was made easier by the friends and faculty she met at the beginning of her Saint Mary's career. Many of the friends she has today, she met at first-year orientation.
Luz found a reassuring presence on campus in her advisor, who was also her Spanish professor. As a woman of Mexican heritage, she was glad to have an advisor who was also of Mexican descent.
"I bonded with her easily and having a professor the same ethnicity as me who could support me was a blessing that really eased my transition from high school to college."
Making a clear choice
For Luz, the decision to major in religious studies – along with a second major in Spanish – was an easy one. Her interest in theology began at age twelve when she began religious studies in her church and her interest continued through her time at Marian High School, a Catholic high school she attended in South Bend.
She also became interested in studying theology because of close family losses she experienced. Instead of those losses driving her away from religion, she said those experiences strengthened her faith.
"I have a strong relationship with God, so I want to learn more about the background and history of religion."
Using her passion to make a difference
After graduation, Luz hopes to work with the Hispanic community in the Fort Wayne and South Bend diocese. She recognizes that in some cases there is language barrier and a lack of communication between the Hispanic community and the predominantly white community in the diocese. Luz wants to be there to represent the Hispanic individuals and educate others about the Catholic faith.
Written by Susan Kratzer '18, media relations intern and senior political science and English writing major.