Student Profiles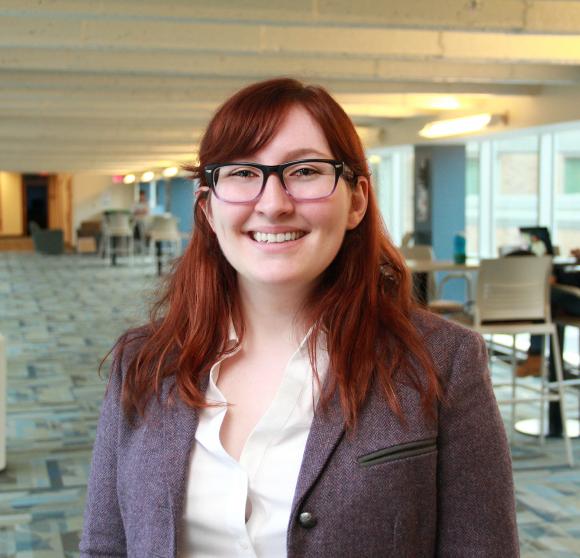 Patricia "Happy" Hale
Major(s):
Computing and Applied Mathematics
Engineering (Dual Degree)**
"MY EDUCATION AT SAINT MARY'S HAS EMPOWERED ME TO SPEAK MY MIND."
A native of Florida, Patricia "Happy" Hale chose Saint Mary's after attending the University of Notre Dame's Summer Scholars program. She visited Saint Mary's across the street and made the decision to attend.
"When I came to visit Saint Mary's, I saw how motivated the women are here and I wanted to be surrounded by others who were working hard."
Taking new paths in math
Originally, Happy was interested in majoring in business and minoring in film, but when she took Liberal Arts Math as part of the Sophia Program, she wondered if mathematics might be a better course of study. She approached her professor, Colleen Hoover.
"I liked doing the homework for that class and Professor (Colleen) Hoover suggested I take more math courses."
Happy switched to the computing and applied mathematics major and joined the Dual Degree in Engineering Program, a partnership with Notre Dame, where she'll earn a degree in computer science engineering after completing a fifth year.
Owning her own success
Engineering is a male dominated field, but that doesn't intimidate Happy.
"My education at Saint Mary's has empowered me to speak my mind and not allow myself to be brushed aside or overlooked."
During the summer following her junior year, she interned with Optum, a health services division of UnitedHealth Group. There she worked on a project to develop a security architecture visualization that was implemented after 10 weeks of development.
"It was my idea and a project that I really owned."
During the internship Happy noticed her own growth.
"I'm comfortable with myself, I've developed networking skills, and I'm more than willing to learn."