Pilar Garcia
Student Profiles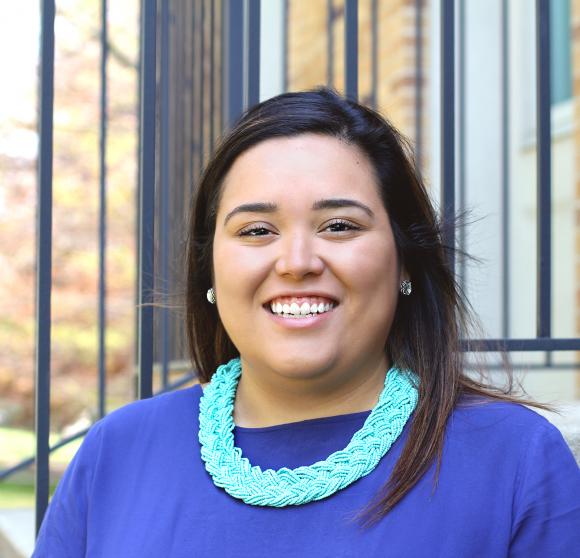 "I'm more well-rounded because of the experiences I've had at Saint Mary's."
Pilar Garcia '17 reaped countless benefits during her four years at Saint Mary's. She was a member of various clubs, a committee co-chair for the Residence Hall Association, and a literacy tutor. She also took on the role of Program Intern for Hannah and Friends, a nonprofit organization dedicated to improving the quality of life for children and adults with special needs.
Whether participating in an on-campus club or pursuing service to the South Bend community, Pilar took full advantage of her time here. She credited the communities she has found at Saint Mary's for fueling her desire to help people.
"It's the people here. My friends have shaped me. Going out of my comfort zone to meet a lot of different people isn't something I would've done when I came here, but now it is second nature."
"I'm more well-rounded because of the experiences I've had at Saint Mary's. The intercultural studies minor, in particular, has made me more culturally aware. I can see the difference a liberal arts education has made for me."
Revealing her future by researching others
Pilar shined as a sociology student. In her senior comprehensive course, the culmination of her efforts to receive her undergraduate degree, Pilar discovered an enthusiasm for research, which she paired with her desire to work with children.
"For my senior comprehensive, I conducted my own research on parents of children with autism and the stress factors they experience. That was definitely my favorite class. I sound like such a nerd, but I absolutely loved the research! I got to speak at a national conference to present my findings, which has given me something to talk about during interviews with potential employers. This final step in my degree will have a huge influence on my future.
Earning more than a degree
Never once has Pilar questioned her decision to come to Saint Mary's. She knows the attention she receives in the classroom is part of what makes an education here so worthwhile.
"Even though I'm not far from home, being away at a smaller school has helped me develop a lot. Knowing my professors and being in a smaller classroom shows how much they really care about how you're doing. I have gotten more value from choosing a private school."
Written by Emerald Blankenship '17, media relations intern and business major with a concentration in marketing.