Sofia Taskey
Student Profiles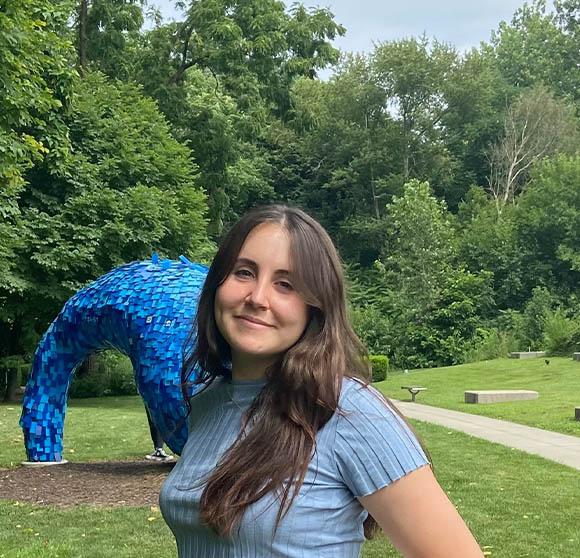 Sofia Taskey
Major(s):
Global Studies - Intercultural Studies*
Political Science
"Having the opportunity to make friends who are also Catholic and have a similar value system has helped me deepen my faith connections."
For Sofia Taskey, applying to Saint Mary's was more than a college option, it was a Christmas gift to family. While at the nail salon, Sofia's grandmother met a woman whose daughter was a recent graduate of Saint Mary's and described to her all the wonderful details about the beauty of the Saint Mary's community. As her grandmother spilled all the details to her, Sofia's grandmother asked for Sofia to apply to Saint Mary's as a Christmas gift; soon becoming the best gift for both Sofia and her grandmother! 
"If it weren't for my grandmother I would have never heard of or applied to Saint Mary's. I am so thankful that this incident happened because it showed me the impact of the tight knit community that Saint Mary's students experience and their love for the campus." 
"Saint Mary's is a giant welcoming sisterhood. Being able to make deep connections with the women here makes my college experience so unique." 
Next Steps Toward a Future
It was not until Sofia attended Saint Mary's when she discovered her passion for global studies and political science. Sofia advocates for global justice and human rights in order to improve the workings of our society. After graduation her plan is to attend graduate school to study international affairs. 
"After graduate school I will look to find work within political analysis because of my strong interest in politics. When I came to Saint Mary's, I was given the opportunity to enroll in so many interesting political science courses which helped me realize what I wanted to pursue in the future." 
"My favorite part about Saint Mary's was working extremely close with my professors in the global studies and political science department. Their advising really helped me narrow down my focus as far as what I wanted to study and I felt like I could go to them whenever I needed help or ask questions. All the professors here are so accessible and I know I would not get that same experience elsewhere." 
A Word for Future Belles
Throughout her time here, Sofia had moments to reflect on her unmatched experiences at Saint Mary's. The campus and community provided her with opportunities to develop unbreakable bonds with her peers and professors in order to help her discover herself. Sofia felt safe putting herself out there and embracing uncomfortable situations due to the immense support at Saint Mary's provided. 
"Don't be afraid to try new things, whether academically or socially, because it may seem scary at first to pursue new things but Saint Mary's gives you so many opportunities to be part of many different groups which helps you grow as a woman," she said.
"It is okay to change your mind in order to find yourself and your future."