Student Profiles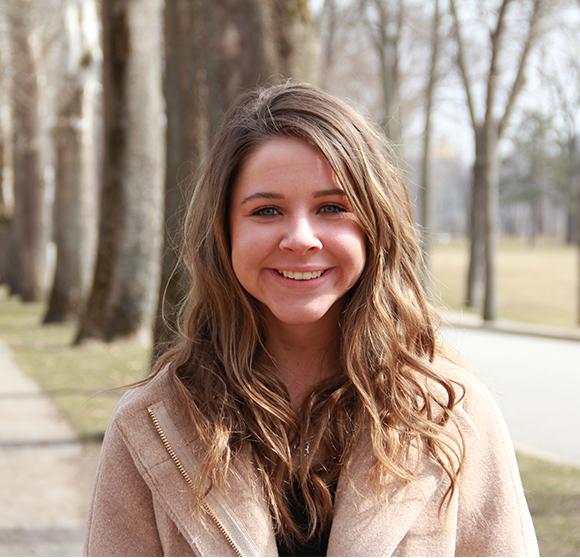 Taylor Kehoe
Minor(s):
Political Science
Public Relations/Advertising
"Regardless of whatever my future holds, my communication studies degree will always be relevant."
Taylor Kehoe '19 likes to talk and reflect with her family, friends, and fellow Belles before she makes a decision, like deciding what college, major, or even a career to pursue. She always knew she wanted to attend Saint Mary's, but she didn't know what she would study once here. She found her mother's career as a teacher aspirational, so she considered pursuing education and even social work during her first year at the College.
Choosing a major was all that was on Taylor's mind when Easter break of her first year rolled around; that is, until she saw a familiar face during her family's vacation at Disney World. A Saint Mary's alumna, a communication studies major, who had grown up in Taylor's hometown was working at the park and struck up a conversation with Taylor.
"We had a lot of similarities in how we studied, and in the type of things we liked in school, like reading and writing. I immediately started looking into the communication studies major while I was on break."
Freedom to choose
Once Taylor started looking into the major, she realized that there was a lot of freedom to choose different paths of study. Students can pursue media studies or even minor in something more business-focused — like public relations. This freedom allowed Taylor to grow as a writer, presenter, and discussion leader.
Her hands-on experience also helped incredibly with both her communication studies senior comprehensive and career direction. In the fall of 2019, she worked with Under Armour at the University of Notre Dame, and through this project, she was able to explore her interests in both sports and advertising. During the process, she was able to choose the topics she wanted and develop her comprehensive her own way. "Everyone gets to tailor their comprehensive to their interests, so I got to focus my comprehensive on Notre Dame's partnership with Under Armour. I got a lot of experience and a behind the scenes look at something I really wanted to do."
A career of her own
Organizations like the NFL, NBA, or NASCAR may seem daunting — they can be pretty competitive — but Taylor is not afraid of a challenge. She shares "regardless of my whatever my future holds, my communication studies degree will always be relevant."
In a corporate organization, she will have the opportunity to apply everything she's learned as a communication studies major. For Taylor, the possibilities are limitless.
Written by Gina Twardosz '20, media relations intern and double major in English writing and communication studies with a minor in theatre.