Student Organizations
Young Executive Club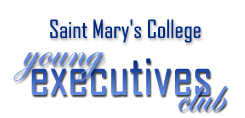 The purpose of the Young Executives Club is to assist Saint Mary's women in their development as future business leaders. The club is dedicated to bringing students together, to give them the opportunity to work with students from other concentrations, functioning within the context of a business entity. Participation in the Young Executives' Club provides valuable opportunities for development of leadership and public speaking skills, access to outside speakers of interest, field trips to companies and organizations, and excellent opportunities for networking
Toastmasters International (TI)
Toastmasters International (TI) is a leading professional organization devoted to making effective oral communication a worldwide reality. Through our three member clubs, TI helps women (and men) develop self confidence and learn the arts of speaking, listening, thinking, and leadership - vital skills that promote self-actualization, human understanding and betterment of communities. The Saint Mary's College club is open to all members of the Saint Mary's and Notre Dame community.
Society for Human Resource Management (SHRM)
The Society for Human Resource Managment (SHRM) represent the interests of over 80,000 professional and 7,000 student members from around the world. Student members learn about the "real world" of resource management through:
Networking at professional SHRM meetings
Job shadowing with SHRM professionals
Access to award winning publications and information services
Attendance at annual conferences
Student members are eligible to apply for SHRM scholarships.
Student International Business Council (SIBC)
Saint Mary's students are active participants in the Student International Business Council (SIBC). This club is Notre Dame's largest and most active student organizations. SIBC has the mission of helping all students in gaining the global advantage by interacting with companies and organizations as well as educating members of the community on the impact of global change in their lives. SIBC has developed a vast network of international businesses and Notre Dame alumni. This has allowed the club the opportunity to offer members such activities as student seminars, forums, consulting work , and numerous summer internships all over the world. Saint Mary's students haver served as co-directors of the summer internship program, have taught business courses at Tallinn University in Estonia, and worked at U.S. Consulates and Embassies abroad.
Vist the SIBC site for more information at http://www.nd.edu/~sibc