Liturgical Ministry
Liturgical Ministers and Preparation
Members of the campus community serve the community and worship life of the campus as servers, readers, Extraordinary Ministers of Holy Communion, musicians, greeters, lay presiders and preachers. Campus Ministry provides formation in all of these ministries so that ministers may serve the community and its worship with confidence and reverence. Liturgical ministries gather weekly to reflect on the Sunday scriptures in preparation for each Sunday's Eucharistic liturgies.
Contact person: Regina Wilson
Assistant Director of Campus Ministry
164 Regina Hall
rwilson@saintmarys.edu
(574) 284-5369
Over 125 students, staff and faculty serve as liturgical ministers during the liturgies throughout the year. Consider attending Ministry Formation and join these people of faith as altar servers, word ministers, extraordinary ministers of holy communion or greeters.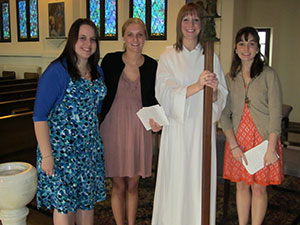 One student commented, "Being involved as a liturgical minister challenges me to ask the question how am I the face of Christ to others. I am very thankful for the opportunity to serve in this way and, through ministering at mass, I have grown in my faith."
Music Ministers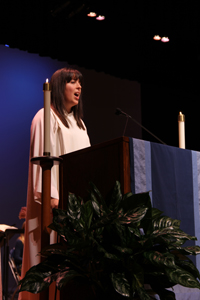 Do you have a background in music? Consider joining the Liturgical or Hand Bell Choir.