Liturgical Ministry
Liturgical Ministers
Over 200 students, staff and faculty serve as liturgical ministers during the liturgies throughout the year. Consider attending Ministry Formation and join these people of faith as altar servers, word ministers, extraordinary ministers of holy communion or greeters.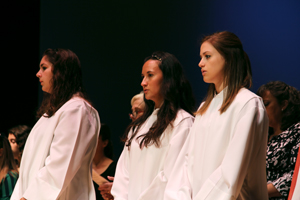 One student commented, "Being involved as a liturgical minister challenges me to ask the question how am I the face of Christ to others. I am very thankful for the opportunity to serve in this way and, through ministering at mass, I have grown in my faith."
Music Ministers
Do you have a background in music? Consider joining the Liturgical or Hand Bell Choir.
Liturgical Ministry Training for New & Returning Ministers (attend one session)
Stapleton Lounge, Le Mans Hall

Wed, Aug 28
9:00-10:30 pm
Sun, Sep 1
8:15-9:45 pm
Sun, Sep 8
8:15-9:45 pm

Regina Chapel, Regina Hall

Tue, Sep 3
8:30-10:00 pm
Wed, Sep 11
7:00-8:30 pm
Liturgy Preparation
Have you ever thought you might like to help prepare the Sunday Eucharistic Liturgy? Students gather weekly to pray and reflect upon the scriptures, as well as offer insights for the homilies and music selections. Bring your gifts to the table on any Tuesday, 6:45-7:45 pm, Campus Ministries Resource Room in the Student Center.
Contact Lisa DeLorenzo, 574.284.5392, ldeloren@saintmarys.edu