Belles Sixth at MIAA Championships
Team Results - Individual Results

ALBION, Mich. - The Saint Mary's cross country team finished sixth at the MIAA Championship race hosted by Albion at the Whiffle Tree Golf Club on Saturday.

Sixth-ranked Calvin won the event and the conference title with a team score of 26. Nineteenth-ranked Hope was second with a score of 37. The Belles posted a team score of 165.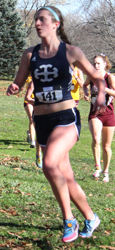 Jessica Biek led the
Belles with a 23:06
for 22nd. (Photo
courtesy Bobby Lee,
Albion SID)Jessica Biek led the way for the Belles on the day. She crossed the finish line 22nd overall in a season-best time of 23:06. Emma Baker ran a 23:59 to finish 43rd overall in the 6k race. Allie Danhof had the best 6k time of her freshman season to date with a 24:29 to cross the line 53rd.

Colette Curtis posted her first sub-25 minute 6k of her career to set a new PR with a 24:35 for 56th. Angela Nebesny was five seconds off of her PR in the distance with a 24:36 as the Belles' fifth finisher (57th).

Julia Kenney had her best 6k time of the season so far with a 24:41 to finish 59th. Sarah Copi was not far behind as she claimed 61st as she broke the 25-minute barrier for the first time of her career with a time of 24:58 for the new PR.

Elizabeth Majewski ran a 25:05 to cross the finish line 66th on the day. Katelyn Dunn and Sarah Lipinski both had season-best times as Dunn posted a 25:17 (72nd) while Lipinski ran a 26:07 (88th).

Dani Haydell was 103rd with a 27:09 for the Belles. Holly Hidgon and Miranda Bronicki also had season-best times. Higdon was 109th with a 27:40, and Bronicki ran a 28:00 for 115th. Clarisa Medina wrapped up the Belles' performances on the day with a 29:59 (132nd).

The Belles will now prepare for the NCAA Regional hosted by Anderson University, which takes place on Saturday, November 10.