Belles Claim Sixth at MIAA Jamboree
Results (PDF)

NOTRE DAME, Ind. - The Saint Mary's cross country team claimed sixth place with a team score of 160 at the MIAA Jamboree on Friday evening.

No. 8 nationally ranked Calvin finished first with a team score of 20 while No. 17 Hope finished second with a score of 53.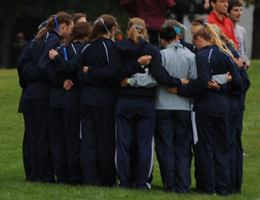 Jessica Biek continued to lead the way for the Belles as she finished 19th overall and scored 18 points for the team with a 23:19 on the 6k course. Angela Nebesny was the Belles' second finisher on the evening with a 24:46, just six seconds off of her PR time, for 51st overall (33 points).

Elizabeth Majewski and Allie Danhof finished back-to-back for Saint Mary's and were just behind Nebesny. Majewski ran a new 6k PR in 24:47 for 53rd overall (35 points), and Danhof finished the race in 24:50 for 54th place (36 points). Julia Kenney was two runners behind as the pack of Belles wrapped up the team score with Kenney's 24:56 (56th place, 38 points).

Samee Chittenden and Emma Baker were in that same pack of finishers for Saint Mary's. Chittenden set a new collegiate 6k PR with a 25:03 for 59th place. Baker's time of 25:04 put the senior in 61st overall.

Colette Curtis ran a 25:24 for Saint Mary's to finish in 69th place. Sarah Copi finished the 6k in a time of 25:37 for 73rd place. Dani Haydell crossed the finish line in 26:06 for 84th place. Sarah Lipinski ran a 26:29 for 90th place. Katelyn Dunn had a 27:30 (100th), Holly Higdon ran a 28:11 (110th), and Miranda Bronicki finished in 28:55 (115th) to round out the Saint Mary's performances on the evening.

The Belles will get back to racing in two weeks when they travel to Terre Haute, Indiana for the Pre-National race on Saturday, October 6.