Belles Finish 15th in DII Division at National Catholic Championship
Full Women's Results - Women's DII Results - JV Results (PDFs)

NOTRE DAME, Ind. - The Saint Mary's cross country team finished 15th in the DII standings of the National Catholic Championship hosted by the University of Notre Dame on Friday. The NCAA Division III Belles finished ahead of NCAA DII Newman and Notre Dame College, NAIA programs Siena Heights and St. Francis (Ind.), and a pair of fellow DIII programs.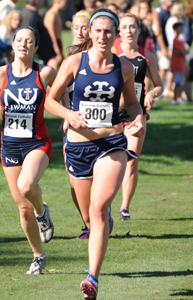 Jessica Biek heads to the finish at
the National Catholic Championship
race Friday.Jessica Biek led the Belles' charge with a 19:22.8 to score 29th for Saint Mary's. Elizabeth Majewski improved her 5k personal record time from last week by running a 20:25.6 and scoring 71st for the Belles. Emma Baker was the team's third finisher with a time of 20:39.3 (79th). Julia Kenney (21:01.0) and Sarah Copi (21:09.1) wrapped up the team score with 93rd and 97th among non-Division I schools.

Allie Danhof and Angela Nebesny finished back-to-back for the Belles. Danhof ran a 21:12.5 to finish 108th while Nebesny crossed the finish line in 21:14.1 for 109th. Sarah Lipinski and Samee Chittenden were not far behind. Lipinski ran a 21:22.2 (115th), and Chittenden finished in 21:28.9 (117) to round out the Saint Mary's performances in the championship race.

Earlier in the afternoon, six members of the team ran in the "JV" race. Colette Curtis ran the team's best time in the earlier 5k with a 21:21.0 to finish 38th. Dani Haydell was a 22:44.2 finisher for 63rd. Katelyn Dunn turned in a 23:03.1 for 70th place. Miranda Bronicki and Holly Higdon finished back-to-back with times of 23:21.2 (74th) and 23:28.6 (75th). Clarisa Medina finished in 23:48.5 for 81st for the Belles on Friday.

The Belles return to action next Friday when Saint Mary's hosts the MIAA Jamboree race. The men's 8k begins at 5:00 p.m. with the women's 6k starting at 6:00 p.m.