Belles Finish 22nd at Pre-National Race
Results

TERRE HAUTE, Ind. - The Saint Mary's cross country team finished 22nd in a big field of 30 teams at the Rose-Hulman Gibson Family Pre-National race on Saturday.

Third-ranked Johns Hopkins won the event with a team score of 52. No. 6 ranked Claremont-Mudd-Scripps was second with 77 points. NAIA No. 3 Olivet Nazarene finished third with a score of 108. The Belles were 22nd with a team score of 578. Six of the top 30 ranked NCAA Division III programs were at the event while several others earning regional rankings were in attendance as well.

Jessica Biek continued to lead the way for the Belles. The junior ran a 24:22.0 to finish 105th overall in a field of more than 320 runners. Emma Baker and Elizabeth Majewski finished within a few seconds of one another as Baker crossed the finish line in 24:47.4 (134th) while Majewski finished in 24:49.6 (136th).

Samee Chittenden finished 156th overall with a time of 25:16.9 for the Belles. Angela Nebesny ran the 6k course in 25:31.4 to finish 170th overall. Allie Danhof turned in a 25:37.8 for 178th place. Julia Kenney was not far behind as the senior ran a 25:41.0 for 183rd.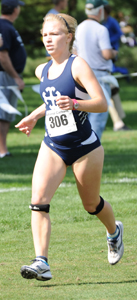 Katelyn Dunn cut 20
seconds off her 6k time
on the season.Sarah Copi finished 202nd overall in a time of 26:07.0 for the Belles. Colette Curtis ran a 26:22.6 (216th) on the day. Dani Haydell was a finisher in 26:55.1 (233rd). Katelyn Dunn improved her 6k time on the season by 20 seconds as she ran a 27:10.4 for 243rd. Holly Higdon and Clarisa Medina were just a few seconds away from each other as Higdon was a 28:46.9 finisher and Medina crossed the finish in 28:52.7 for 287th and 288th. Miranda Bronicki wrapped up the team's individual performances with a 29:00.4 for 290th.

Next up for the Belles will be the University of Wisconsin-Oshkosh Brooks Invite on October 13 beginning at 11:14 a.m. CST.