Belles Finish Eleventh at Calvin Invite
Results (pdf)
GRAND RAPIDS, Mich. - The Saint Mary's cross country team finished 11th out of 26 teams at the Calvin Knight Invitational on Saturday with a team score of 296.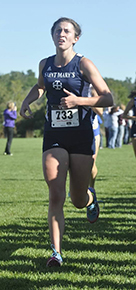 Jessica Biek was the
Belles' top finisher on
Saturday. (photo courtesy
of Camille Higdon)Eleventh-ranked Calvin won the event with a score of 40. NAIA-member and ninth-ranked St. Francis (Ill.) was second with a 101, and 35th-ranked Case Western was third with a score of 134. Six schools competing in the race are currently ranked in either Division III or NAIA.
Jessica Biek ran a collegiate personal record time and posted the fifth-fastest 5k time in program history with a 19:03.9 while finishing 40th (33rd scorer) overall. Brittany Beeler was not far behind with a 19:05.5 for the sixth-fastest 5k time in school history while finishing 45th (38th scorer) for the Belles.
Allie Danhof posted a collegiate personal record time for a 5k with a 19:39.8 to finish 77th (62nd scorer) overall. Samee Chittenden and Katelyn Dunn also posted collegiate 5k personal record times to wrap up the Belles' scoring efforts. Chittenden broke into the 19-minute range for the first time with a 19:42.6 to finish 82nd (65th scorer), and Dunn ran a 20:24.2 to finish 127th (98th scorer) at the race.
Kaitlyn Alessi and Kathryn Marshall ran the 5k in times of 20:44.9 (157th) and 20:47.3 (164th), respectively, to help pace the Belles.
Colleen Ogren, Sarah Thompson, and Emily Getz all finished within a few seconds of one another. Ogren ran a 20:59.8 to finish 178th. Thompson crossed the finish line in 21:02.2 (181st), and Getz was half a second behind with a 21:02.7 (182nd).
Colette Curtis posted a time of 21:20.3 for 202nd place. Maggie Pacana ran the 5k in 21:54.1 to finish 239th. Erin Knauf was 246th with a 22:07.0. Holly Higdon posted a collegiate 5k personal record with a time of 22:24.6 to finish 260th.
The Belles have a week off of competition before the MIAA Jamboree, which will be hosted on Saturday, September 28 at Adrian.