Belles Win Manchester Invitational
NORTH MANCHESTER, Ind. - The Saint Mary's cross country team won the 2013 Manchester Invitational with a team score of 34 for their first invitational win since the 2007 season.
The Belles finished six points ahead of the squad from Calvin and 22 points better than third place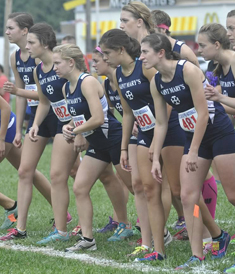 (Photo courtesy of Camille Higdon)Manchester. The invitational win is the first for the cross country program since taking first place at the 2007 Benedictine Invitational.
Jessica Biek was the individual winner of the race by two seconds with a personal record time of 23:03.7. Brittany Beeler was third overall in a time of 23:18.3. Allie Danhof ran a personal record time of 24:13.5 to take seventh place individually.
Kathryn Marshall, Katelyn Dunn, Erin Knauf, and Samee Chittenden all finished consecutively to wrap up the team score and clinch the win for the Belles. Marshall was eleventh with a time of 24:39.4 while Dunn also had a personal record time by running the 6k course in 24:48.3. Knauf was just a second behind Dunn with a 24:49.4 for 13th place. Chittenden ran a 24:58.7 to take 14th place overall.
Colleen Ogren and Colette Curtis finished within seconds of one another as Ogren was 21st overall with a 25:22.1. Curtis, meanwhile, finished in 25:24.7 for 22nd place.
Kaitlyn Alessi and Emily Getz both finished in the 25s for the Belles. Alessi ran a 25:29.3 to be the 27th finisher of the race, and Getz was 33rd with a time of 25:48.7.
Maggie Pacana finished 41st with a time of 26:44.3. Sarah Thompson crossed the finish line in 27:04.1 for 45th place. Holly Higdon was 48th overall with a 27:43.9 for the Belles.
The Belles return to racing on Saturday, November 2 when they travel to Hope for the MIAA Championships.