Biek All-Region as Belles Place Fourteenth
GRAND RAPIDS, Mich. - The Saint Mary's cross country team was paced by Jessica Biek's top 25 finish as the Belles claimed 14th at the NCAA Great Lakes Regional race.
Host Calvin, who is ranked fifth in the nation among all NCAA Division III women's cross country teams, won the event with a team score of 54. The Belles had a team score of 419.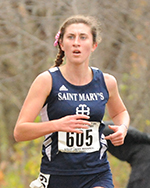 Jessica BiekJessica Biek picked up yet another personal record time with a 22:35.8 and was edged out by a tenth of second to finish 23rd overall. By virtue of finishing in the top 35 in the race, the senior earned All-Region honors. She is the first runner since Julia Kenney accomplished the feat in 2010.
Brittany Beeler was right on the same pace as her MIAA Championship run with a time of 23:08.2 to take 47th place in a field of more than 240 runners.
Samee Chittenden and Katelyn Dunn finished within a few seconds of one another on Saturday. Chittenden was 112th with a personal record time of 24:23.2 while Dunn was 114th after running a 24:27.9.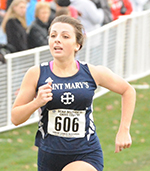 Samee ChittendenErin Knauf wrapped up the team scoring with a 24:45.7 to finish 127th. Colette Curtis was 132nd overall with a time of 24:57.6. Kaitlyn Alessi was the Belles' seventh runner and took 151st with a 25:28.2.
The 14th place finish at the NCAA Regional race is the best in program history. Prior to this season, the Belles had finished as high as 15th.