Beeler Earns Division III USTFCCCA All-Academic Honor
NEW ORLEANS, La. - Saint Mary's sophomore cross country runner Brittany Beeler was one of 325 Division III women to earn U.S. Track & Field and Cross Country (USTFCCCA) All-Academic honors for the 2014 season.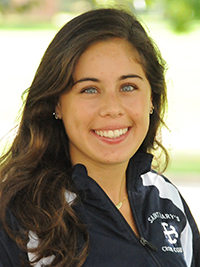 In order to be recognized, honorees must have a cumulative GPA of at least 3.30 and have finished in the top 25 percent of finishers at the NCAA Regional race.
Brittany Beeler had a lifetime personal record time of 22:29.3 to finish 24th overall while pacing the Saint Mary's cross country team to an 18th place finish at the NCAA Great Lakes Regional back in November. She also boasts better than a 3.30 grade point average while majoring in biology.
For the full list of honorees, click here.