Belles Claim Eleventh at Calvin Invite
GRAND RAPIDS, Mich. - The Saint Mary's cross country team finished eleventh out of 25 teams at the Calvin Knight Invitational on Saturday morning.
The host and No. 7 nationally-ranked squad from Calvin won the event with a team score of 27 after taking the top three individual finishes. NAIA No. 9 St. Francis (Ill.) was second after a team score of 109. Fellow NAIA member and 22nd ranked Aquinas was third with a 124.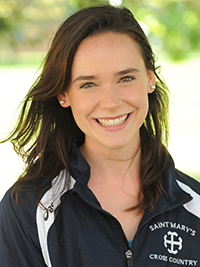 Natalie Hawkes was the Belles'
second finisher on the day.The Belles turned in a team score of 316. Brittany Beeler led the way for Saint Mary's as she was the 36th scoring runner (40th overall) to cross the finish line with a time of 19:32.7. Natalie Hawkes was 52nd (57th) among scoring runners after a 19:48.8 on the 5k course.
Reilly Pieri ran a 20:01.8 to finish 65th (73rd) for the Belles. Allie Danhof was the 77th scoring runner (94th overall) to complete the race with a time of 20:21.5, and Kaitlyn Alessi secured the team's eleventh place finish with a 20:35.0 to finish 86th among scoring runners (109th overall).
Katelyn Dunn finished one tenth of a second behind Alessi to finish 110th overall. Caitlin Blum ran a 20:46.1 for 119th place, and Samee Chittenden was just a few seconds behind with a 20:49.0 for 122nd.
Kathryn Marshall was 132nd after turning in a 20:58.8, and Erin Knauf ran a 21:16.9 for 150th place. Anna McClowry and Colleen Ogren finished within three seconds of one another with times of 21:26.7 and 21:29.0 for 161st and 167th, respectively. Anna Riddle was 202nd with a 22:19.1 followed shortly by Maggie Pacana's 22:23.8 for 209th. Colleen Burke rounded out the Belles' performances with a 22:30.6 for 213th.
Saint Mary's has two weeks to prepare for their first 6k race of the season. The MIAA Jamboree, which counts for a third of teams' conference scores for the season, takes place on Saturday, September 27 at Kalamazoo.