Beeler All-Region as Belles Take 18th at NCAA Regional
WILMINGTON, Ohio - Brittany Beeler had a lifetime personal record time of 22:29.3 to finish 24th overall while pacing the Saint Mary's cross country team to an 18th place finish at the NCAA Great Lakes Regional on Saturday.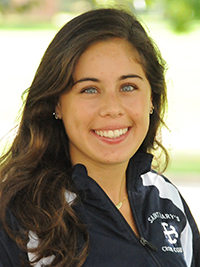 Brittany Beeler finished 24th to
earn All-Region honors.The Belles had a team score of 522 on the day. No. 8 ranked Calvin won the event with a team score of 61 while eleventh-ranked Oberlin was second with a 73. Five of the 35 competing teams are currently ranked in the top 35 nationally by the USTFCCCA.
Beeler's time of 22:29.3 was a 15 second improvement upon her previous personal record time of 22:44.4 at the Benedictine Invitational earlier this year. The sophomore became the third Belle in the last four seasons to earn All-Region honors by finishing in the top 35 at the race. It also marks the first time in program history for the Belles to have two different student-athletes earn All-Region honors in back-to-back seasons.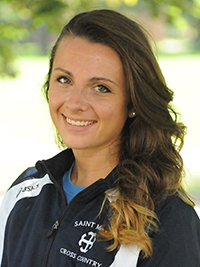 Samee Chittenden ran a PR in her
final race with the Belles.Samee Chittenden turned in a personal record time of her own in her final race with the Belles as the senior ran a 24:12.2 to finish 117th. Kaitlyn Alessi crossed the finish line 10 seconds later with a 24:22.0 for 126th place.
Allie Danhof and Kathryn Marshall finished within a second-and-a-half of each other to wrap up the team score. Danhof ran a 24:23.6 for her best time of the season and 130th place. Marshall completed the race in 24:24.8 for 133rd place overall.
Katelyn Dunn ran a 24:36.0 to finish 139th, and Natalie Hawkes posted a 25:43.0 for 175th to wrap up the Belles' efforts on the day.